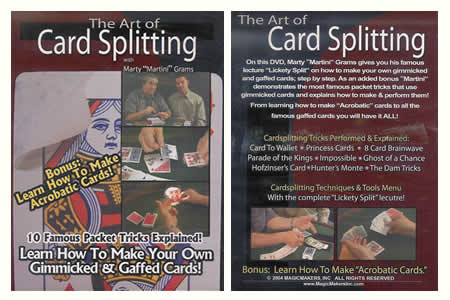 Description
Dans ce nouveau Dvd unique
Marty "Martini" Grams
vous explique sa conférence qui vous détaille comment fabriquer vos cartes Bicycle spéciales étape par étape!
Dans le bonus
"Martini"
vous démontre et vous détaille un des plus beaux tours de petits paquets utilisant des cartes spéciales!!!
Il vous explique aussi comment la méthode pour fabriquer le tour
'Acrobatic cards'
!
AU SOMMAIRE :
Card To Wallet

Princess Cards

8 Card Brainwave

Parade of the Kings

Impossible Ghost of a Chance

Hofzinser's Card

Hunter's Monte

The Dam Tricks Cardsplitting

Menu interactif de toutes les techniques issues de la conférence.
Dvd en anglais.

Retour au catalogue
Cet article n'est
plus vendu sur Magicaplanet