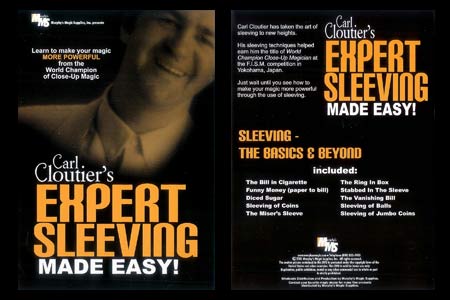 Description
Apprenez des techniques spéciales et peu utilisées du
grand champion du monde de la magie en close up Carl Cloutier !
En effet, ses techniques de sleeving lui ont permis de remporter le titre de Champion du Monde en close-up à la FISM de Yokohama, au Japon.
Carl utilise aussi bien le Sleeving pour des
simples disparitions
où l'on montre immédiatement les mains vides, comme pour des
transformations d'objets hyper visuelles.
Maîtriser cet outil est le rêve du magicien car on ne peut faire plus propre !
Vous n'en reviendrez pas de la dimension que prendra votre magie grâce à la maîtrise de quelques-unes des techniques de Carl !



Au Sommaire :
- The Bill in Cigarette
- Funny Money (paper to bill)
- Diced Sugar
- Sleeving of Coins
- The Miser's Sleeve
- The Ring In Box
- Stabbed In The Sleeve
- The Vanishing Bill
- Sleeving of Balls
- Sleeving of Jumbo Coins
Nombreuses applications
Nombreuses techniques
DVD en Anglais
Durée : 1h 12min

Retour au catalogue




Nous vous conseillons avec ce produit :
1.
Raven
38.5 €