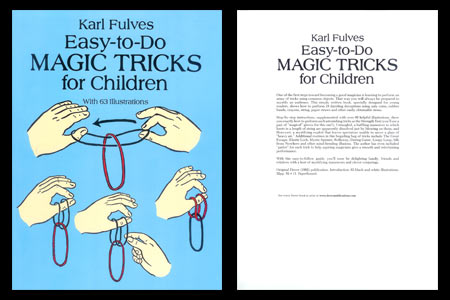 Description
L'un des premiers pas avant de devenir magicien est d'apprendre toute une gamme de
tours qui utilisent des objets usuels
.
De cette façon vous serez toujours prêt à épater votre public. Ce livre
écrit très simplement
, spécialement conçu pour les jeunes apprentis magiciens montre comment réaliser
18 illusions
épatantes avec des pièces, des élastiques, des crayons, de la ficelle et autres objets que l'on trouve facilement.
Des
instructions étapes par étapes
auxquelles s'ajoutent une soixantaine d'illustrations, vous montrant exactement comment réaliser les tours comme le Strenght Test (pour lequel vous utiliserez une paire de gants « magiques » cette fois-ci)…
Grâce à ce guide très simple, vous amuserez très rapidement votre famille, vos amis et autres personnes avec une multitude de tours de magie.
AU SOMMAIRE :
The Strenght Test
Untangled
Elastic Lock
Mystic Spinner
Rollaway
Memory Plays Tricks
Heavyset
Static Cling
The Great EscapeDating Game
Wuffle Tube
A mind for Figures
Color Sense
Loopy Loop
Silk from Nowhere
Unlisted Numbers
Pick a Pet
Catch – No Catch
Langue :
anglais –
31 pages illustrées
.

Retour au catalogue
Cet article n'est
plus vendu sur Magicaplanet