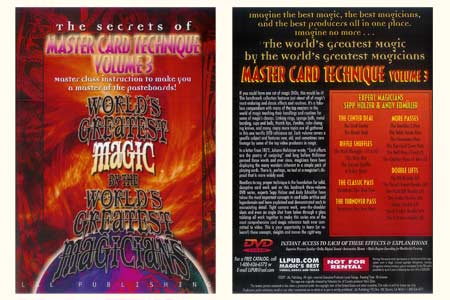 Description
Si vous deviez posséder une seule collection de DVD sur la magie ce serait celle-ci !
Cette collection de référence reprend
les meilleurs effets et routines de la magie.
C'est un fabuleux recueil dans lequel de nombreux maîtres magiciens vous apprennent leurs mouvements et routines pour quelques classiques de la magie.
Anneaux chinois, balles éponges, torsion du métal, balles et gobelets, faux pouces, zombie, canifs caméléons et de très nombreux autres sujets sont tous abordés dans cette impressionnante collection de DVD de référence.
Chaque volume couvre un sujet spécifique et vous proposes quelques morceaux modernes, anciens et d'anthologie des meilleures vidéos de la magie.
Dans une lettre de 1872, Johann Hofzinser a écrit « les effets de cartes sont la poésie de l'illusionisme ». Il n'y a en tout cas sans doute pas d'autre matériel autant utilisé que les cartes par les magiciens.
Pas besoin de le dire, une bonne technique est la base pour toute routine avec des cartes réussie.
Dans cette série de 3 DVD, les experts
Sepp Holzer et Andy Edmüller
ont repris les
concepts les plus importants
des routines de cartes et ont expliqué et démontré chacune dans les détails.
Cadrage serrés, par dessus l'épaule et même un angle de caméra en dessous d'une table en verre permettent une
très grande compréhension
et font de cette série de DVD une
référence
dans la magie des cartes. Voici donc pour vous, l'opportunité d'apprendre ou (ré-apprendre) ces concepts !
AU SOMMAIRE :
The Center Deal
The Stud Center

The Greek Deal

Riffle Shuffles


The Push Through - #1 & #2

The Strip Out

The Zarrow Shuffle

A Poker Stack

The Classis Pass


Variations One Thru Five

The Turnover Pass


Variations One Thru Nine

More Passes


The Gambler's Pass

The Table Cover Pass

The Herrmann Pass

The Top Card Cover Pass

The Half Pass #1 & #2

The Charlier Pass #1 thru #3

Double Lifts


The Hit Double Lift

The Thumb Count Double Lift

The Push Off Double Lift

The Center Double Lift

Action Double Lift

Small Packet Double Lift

The D'Amico Double Lift

Langue : anglais – Durée : 58 minutes

Retour au catalogue




Nous vous conseillons avec ce produit :
1.
Auto deck final vision
15 €

2.
Le Jeu Brainwave Bicycle
12 €