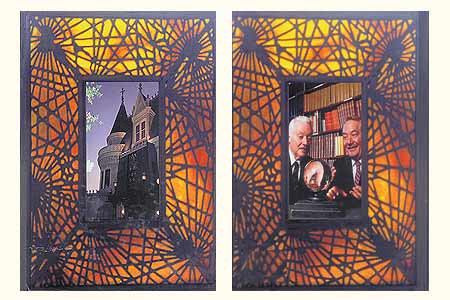 Description
Un tour magique et mystérieux des sites les plus étonnant d'Hollywood !
Un tour sensationnel des clubs privés les plus originaux au monde.Milt Larsen's Magic Castle Tour sonde les origines de chaque coin, de chaque recoin, de chaque couloir, et de chaque pièce.Ecrit et photographié par Carol Marie, cet ouvrage est un guide complet que tout invité, visiteur et même membre de ces " Châteaux magiques " se doit de posséder.
Au sommaire :
The Lane Mansion
Thomas O Glover Sr
Front Entrance / Foutain
Reception Entry hall
Grand Salon
The Blackstone Room
Harry Blackstone
Harry Blackstone Jr
Invisible Irma's Room
Invisible Irma
The Museum in the Haunted Wine Cellar
William Larsen Jr
The Haunted Wine Cellar
Hat'n Hare Pub
Milt Larsen
The Close-up Gallery
Jay Alvin Ose
Grand Staircase
The Mezzanine Owl Bar
John Shrum
Main Dining Room
Houdini Seance Room
Harry Houdini
Cherub Room
Terrace Dining Room
Irene Larsen
Dante Dining Room
Dante
Palace Hallway Art Gallery
Geraldine Larsen
Palace of Mystery
Palace Bar
Waiting Area of the Parlour of Prestidigitation
Dai Vernon
Parlour of Prestidigitation
Inner Circle Ballroom
The Albert Peller Theatre
William W Larsen Memorial Library
William W Larsen Sr
Langue
: Anglais,
295 pages illustrées
.

Retour au catalogue
Cet article n'est
plus vendu sur Magicaplanet