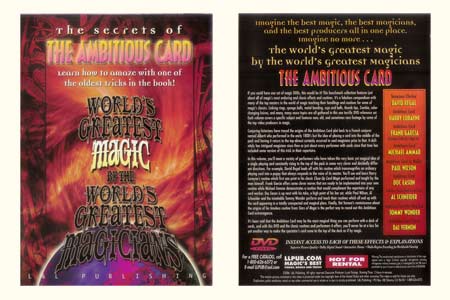 Description
Si vous ne deviez posséder qu'une seule collection de DVD sur la magie ce serait celle-ci !Cette collection de référence reprend
les meilleurs effets et routines de la magie.
C'est un fabuleux recueil dans lequel de nombreux maîtres magiciens vous apprennent leurs mouvements et routines pour quelques classiques de la magie.Anneaux chinois, balles éponges, torsion du métal, balles et gobelets, faux pouces, zombie, canifs caméléons et de très nombreux autres sujets sont tous abordés dans cette impressionnante collection de DVD de référence.
Chaque volume couvre un sujet spécifique et vous proposes quelques morceaux modernes, anciens et d'anthologie des meilleures vidéos de la magie.
Dans ce volume vous trouverez de nombreuses reprises et améliorations du célèbre tour de la carte qui remonte sur le dessus du jeu proposées par de très nombreux magiciens (la carte Ambitieuse).Ainsi
David Regal
commence en nous présentant sa routine qui transforme une carte à jouer ordinaire en une marionnette répondant aux ordres de son maître.Vous pourrez regarder puis apprendre la routine d'
Harry Lorayne
, à l'origine parue dans son ouvrage classic Close-Up Card Magic, présentée et réalisée par le grand magicien en personne.
Frank Garcia
vous propose quelques mouvements astucieux que vous pourrez incorporer à vos propres routines alors que
Michael Ammar
présente une routine qui améliorera sans aucun doute le répertoire de tout cartomane.
Doc Eason
vous proposera ensuite un de ses tours, pilier de sa série sur la magie de bar, alors que
Paul Wilson, Al Schneider
et l'inimitable
Tommy Wonder
réalisent et expliquent leurs propres routines qui se terminent toute par l'apparition d'une carte dans un endroit magique et inattendu.Enfin,
Dai Vernon
présente un façon idéale de clôturer ces tours de cartes hors pairs.La rumeur dit que la carte ambitieuse (Ambitious Card) est certainement le tour le plus magique qui soit réalisable avec une jeu de cartes. Avec ce DVD et les routines qu'il propose, vous ne serez jamais en reste pour faire remonter la carte du spectateur sur le dessus du jeu.
Au sommaire :
Tenacious Climber
- DAVID REGAL
Ambitious Card
- HARRY LORAYNE
Ambitious Card
- FRANK GARCIA
Ambitious Card
- MICHAEL AMMAR
Ambitious Card to Wallet- PAUL WILSON
Ambitious Card- DOC EASON
Ambitious Card and Card to Card Case
- AL SCHNEIDER
Ambitious Card Plus Ring Box
- TOMMY WONDER

Ambitious Card Story
- DAI VERNON
Langue
: Anglais,
Durée
: 2h06

Retour au catalogue




Nous vous conseillons avec ce produit :
1.
Auto deck final vision
15 €

2.
Le Jeu Brainwave Bicycle
12 €