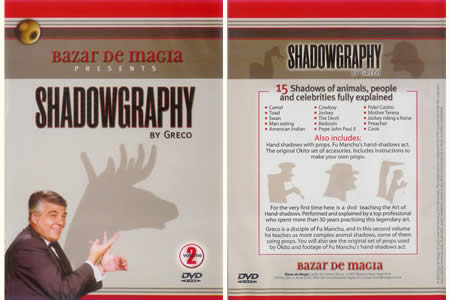 Description
Enfin un DVD qui vous permettra d'apprendre tout l'art des ombres chinoises.
Ce DVD est présenté et réalisé par l'un des meilleurs professionnels en la matière, fort de plus de 30 années de pratique de cet art légendaire.
Volume Deux
Dans ce second volume Greco propose des ombres chinoises complexes dont certaines sont réalisables avec des accessoires.
Le volume Deux de cette série présente également l'ensemble des accessoires originalement utilisés par Okito et comporte également quelques moments vidéos du spectacle d'ombres chinoises de Fu Manchu's.
Vous apprendrez également à réaliser les ombres suivantes :
Camel (Chameau)


Toad (Crapaud)


Swan (Cygne)


Man Eating (Homme qui mange)


American Indian (Indien américain)


Cowboy


Jockey (Cavalier)


The Devil (Démon)


Bedouin (Bédouin)


Pope John Paul II (Pape Jean Paul II)


Fidel Castro


Mother Teresa of Calcutta (Mère Thérésa de Calcutta)


Jockey Riding a Horse (Cavalier à cheval)


Preacher (Prédicateur)


Cook (Cuisinier)
Ce DVD comprend également :
- Des ombres à réaliser avec des accessoires
- Le spectacle d'ombres chinoises de Fu Manchu
- Les accessoires originaux d'Okito
- Les instructions pour réaliser vos propres accessoires.
Langue
: Anglais.

Retour au catalogue
Cet article n'est
plus vendu sur Magicaplanet