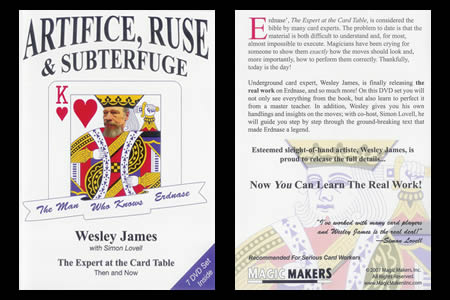 Description
Erdnase, The Expert at the Card Table, est considérée comme un ouvrage de référence par bon nombre d'experts.
Le principal problème est que les manipulations sont à la fois difficiles à comprendre pour certaines personnes et impossibles à réaliser pour d'autres.
Expert en cartes,
Wesley James
dévoile enfin tout son travail sur Erdnase, et bien plus encore !
Dans ce coffret de
7 DVD
vous trouverez toutes les applications du livre et apprendrez comment les réaliser grâce à l'enseignement d'un professionnel.
De surcroît, Wesley vous propose ses propres manipulations et ses propres conceptions.
En collaboration avec Simon Lovell, il vous guidera étape par étape tout au long du texte construit qui a fait d'Erdnase une légende.
Au sommaire :


DVD 1


History of the book


Langue : Anglais, Durée : 41 min


DVD 2


Erdnase system of blind shuffles


Erdnase system of blind riffles & cuts


Blind riffles


Blind cuts


Fancy blind cuts


Fancy true cut, one handed


Indicate the location for the cut


Bottom dealing


Top & bottom dealing with one hand


Second dealing


Ordinary methods of stocking, locating & securing stock shuffle


Erdnase system of stock shuffling


Erdnase system of cull shuffling


Langue : Anglais, Durée : 1h24


DVD 3


Erdnase system of palming


To maintain the bottom palm while dealing


To hold the location of cut while dealing


Shifts


To ascertain the top cards while riffling and reserve them at bottom


Mode of holding the hand


Skinning the hand


The player without and ally


Three card monte


Langue : Anglais, Durée : 1h03


DVD 4
Legerdemain - Part one


Shifts


The blind shuffle for securing selected card


Forcing


Palming


Changes


Transformations, two hands


Transformations, one hand


Langue : Anglais, Durée : 1h36


DVD 5
Legerdemain - Part two


Blind shuffles, retaining entire order


Methods for determining a card thought of


To get sight of selected card


The slide


Favorite sleights for terminating tricks


Langue : Anglais, Durée : 1h10


DVD 6
Act I - For your heart


The acrobatic jacks


The card and handkerchief


The card and hat


The travelling cards


The three aces


The acme of control


The invisible flight


The exclusive coterie


Langue : Anglais, Durée : 1h35


DVD 7
Act II - For your mind


A mind reading trick


The row of ten cards


The prearranged deck


Power of concentrated thought


The top & bottom production


The divining rod


Langue : Anglais, Durée : 1h13


Le livre

Le livre suit la même logique que la série de 7 DVD.

Langue : Anglais, 205 pages illustrées.

Retour au catalogue
Cet article n'est
plus vendu sur Magicaplanet