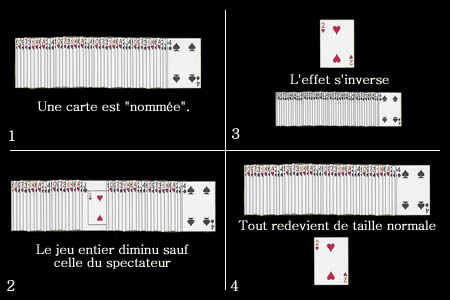 Description
Le
Diminishing Returns de Mike Power
est un des tours de close-up les plus surprenants (et les plus vendus) jamais réalisés. Il est maintenant de retour, plus en forme que jamais !
Repensé et amélioré, il est désormais disponible en
dos Bicycle !L'effet :
Vous présentez les faces et les dos d'un jeu de cartes au public.
Vous demandez à un spectateur de vous nommer une carte, n'importe laquelle et vous retirez la carte choisie du jeu de cartes pour la mettre de côté face visible.
Vous étalez alors le jeu sur la table et de quelque façon que ce soit,
le jeu entier semble rétrécir pour ne mesurer que la moitié de sa taille normale !La carte choisie a conservé sa taille normale !!
Au moment où le public retient sa respiration,
le jeu entier grossit pour reprendre sa taille normale alors que la carte choisie a elle diminué !
Pour finir,
la carte choisie reprend visiblement sa taille pour revenir à sa taille normale !
Jeu complet avec les cartes spéciales, imprimées Bicycle, accompagné d'un livret explicatif de 16 pages en anglais et de sa traduction en français.
Le tour Diminishing Returns comprend également un bonus,
The Defective Deck!
Utilisez la magie pour réparer certaines cartes défectueuses dans votre jeu !

Retour au catalogue


Nous vous conseillons avec ce produit :
1.
Tribute to Varone
25 €

2.
Le Jeu Blush
8.5 €