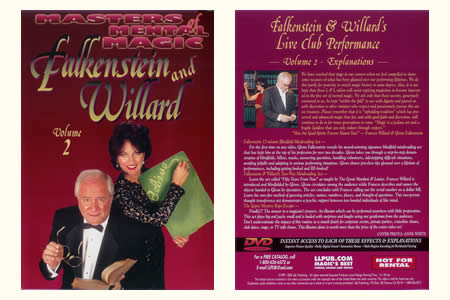 Description
« La Magie est un art jaloux et une déesse fragile qui ne peux survivre qu'au travers du respect. Faites que le bon esprit continue à vous hanter ! »
Frances Willard et Glenn Falkenstein.
Volume 2 – Explications :


Falkenstein 17-minute Blindfold Mindreading Act



Pour la première fois en DVD, Glenn Falkenstein révèle les secrets de son célèbre et récompensé tour de lecture de pensée les yeux bandés qui lui permis de se maintenir parmi les meilleurs de la profession pendant plus de vingt ans. Glenn vous plonge dans une démonstration étape par étape de ce tour les yeux bandés, de billets, de masques, de réponses aux questions, de gestion des volontaires, de réactions dans des situations difficiles tout en évitant les embûches ; d'adaptations aux différentes situations de réalisations. Glenn vous offre de nombreux conseils qui n'ont pas de prix glanés sur une carrière entière de spectacles !





Falkenstein & Willard's Two-Way Mindreading Act



Apprenez le tour intitulé "Fifty Years From Now" (le tour de LA CABINE SPIRITE) tel que l'a enseigné par The Great Mardoni & Louise. Glenn recouvre les yeux de Frances Willard d'un bandeau. Glenn se promène dans le public pendant que Frances nomme et décrit les objets tendus Glenn par le public. Le tour se termine par l'énumération du numéro de série d'un billet par Frances. Apprenez une méthode fiable pour deviner les objets, les noms, numéros places et questions habituelles. Ce tour de transmission de pensée entre deux personnes démontre l'existence d'un rapport psychique entre deux individus d'esprit similaire.





The Gypsy Mystery Rope Escape



Enfin !!! La réponse aux prières des magiciens. Une illusion pouvant être présentée n'importe où et avec peu de préparation. Ce tour a un effet abasourdissant, nécessite que peu de matériel et est rempli de surprises et de rires. Ne sous-estimez pas l'impact de cette routine, ne la considérez pas comme une fin à succès lors d'un spectacle d'entreprise, d'une fête privée, d'une croisière, dune émission de télé… Cette illusions présentée seule a beaucoup plus de valeur que l'ensemble des DVD de cette série réunis !




Langue : Anglais, Durée : 1h30


Retour au catalogue




Nous vous conseillons avec ce produit :
1.
Prisme (2ème édition)
40 €