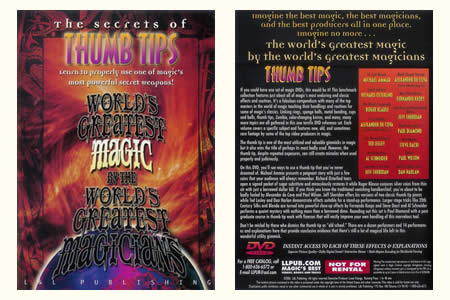 Description
Si vous deviez posséder une seule collection de DVD sur la magie ce serait celle-ci !
Cette collection de référence reprend
les meilleurs effets et routines de la magie.
C'est un fabuleux recueil dans lequel de nombreux maîtres magiciens vous apprennent leurs mouvements et routines pour quelques classiques de la magie.
Anneaux chinois, balles éponges, torsion du métal, balles et gobelets, faux pouces, zombie, canifs caméléons et de très nombreux autres sujets sont tous abordés dans cette impressionnante collection de DVD de référence.
Chaque volume couvre un sujet spécifique et vous propose quelques morceaux modernes, anciens et d'anthologie des meilleures vidéos de la magie.Le Faux Pouce est un des gimmick les plus utilises et reconnus dans le monde de la magie,
cependant il remporte également le titre de la plus mauvaise utilisation.
Toutefois, le Faux Pouce, en dépit des présentations répétitives, permet de créer des miracles lorsqu'il est proprement et correctement utilisé.
Sur ce DVD vous trouverez différentes propositions d'utilisation du Faux Pouce comme vous ne l'auriez jamais imaginé.
Michael Ammar
vous présente une histoire poignante avec simplement quelques pièces dont votre public se souviendra à jamais.
Richard Osterlind
déchire un paquet de sucre signé et le restaure miraculeusement alors que
Roger Klause
obtient des pièces en argent dans les airs avec un simple billet emprunté.
Si vous imaginez connaître le classique du foulard qui disparaît, vous serez totalement dupé par
Alexander de Cova
et
Paul Wilson
.
Jeff Sheridan
propose deux de ses versions classiques d'utilisation du Faux Pouce alors que
Ted Lesley
et
Dan Harlan
vous présentent les effets pour une présentation debout.
Des tours de scène plus long comme le 20th Century Silks et le Blendo deviennent d'excellents effets de close-up avec
Fernando Keops
et
Steve Dacri
;
Al Schneider
réalise un tour qui tient véritablement du mystère avec une simple pièce empruntée.
Pour conclure ces présentations,
Paul Diamond
vous propose un cours de perfectionnement sur l'utilisation du Faux Pouce qui améliorera nettement votre propre manipulation de ce merveilleux gimmick.
Ne vous laissez pas avoir par ceux qui qualifient le Faux Pouce d'obsolète. Une
douzaine de magiciens
ainsi que
14 présentations et explications
vous fournissent ici la preuve évidente qu'il reste encore une grande part de magie à exploiter dans ce merveilleux gimmick.
Au sommaire :


MICHAEL AMMAR
- 41-cent Miracle


RICHARD OSTERLIND
- Sweet and Low


ROGER KLAUSE
- The Miser's Cornucopia


ALEXANDER de COVA
- Purse Swindle (Courtesy of Murphy's Magic Inc.)


TED LESLEY
- Coin Through Sleeves


AL SCHNEIDER
- Vanishing Dime


JEFF SHERIDAN
- Cigarette in the Coat


ALEXANDER de COVA
- Blank Cheque Transpo (Courtesy of Murphy's Magic Inc)


FERNANDO KEOPS
- Mini 20th Century


JEFF SHERIDAN
- Vanishing and Reappearing Water


PAUL DIAMOND
- Thumb Tip Lecture


STEVE DACRI
- Mini Blendo


PAUL WILSON
- Tipless


DAN HARLAN
- World's Saddest Trick


Langue : Anglais, Durée : 1h40


Retour au catalogue




Nous vous conseillons avec ce produit :
1.
FP Classique (Vernet)
4.5 €

2.
Faux Pouce Souple (Vernet)
4.5 €