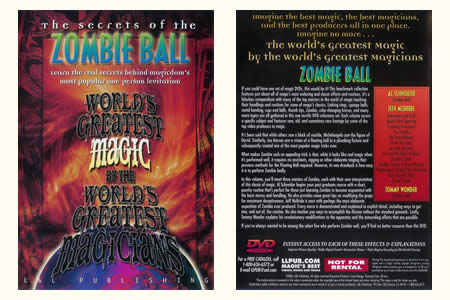 Description
Si vous deviez posséder une seule collection de DVD sur la magie ce serait celle-ci !
Cette collection de référence reprend
les meilleurs effets et routines de la magie.
C'est un fabuleux recueil dans lequel de nombreux maîtres magiciens vous apprennent leurs mouvements et routines pour quelques classiques de la magie.
Anneaux chinois, balles éponges, torsion du métal, balles et gobelets, faux pouces, zombie, canifs caméléons et de très nombreux autres sujets sont tous abordés dans cette impressionnante collection de DVD de référence.
Chaque volume couvre un sujet spécifique et vous propose quelques morceaux modernes, anciens et d'anthologie des meilleures vidéos de la magie.
Il a été dit que la où certains ne voyaient qu'un simple bloc de marbre, Michel-Ange, lui, a vu le visage de David. De façon similaire,
Joe Karson
a eu la vision d'une
d'une boule flottant dans les airs sur un support en plomb
et a inventé en conséquence un des meilleurs tours de magie jamais imaginés.
Ce qui rend la balle zombie aussi attrayante, c'est qu'elle semble réellement magique lorsqu'elle est bien présentée, elle ne requiert aucun assistant, trucage ou encore mise en scène, ce qui n'était pas le cas des précédentes lévitations de balle.
Cependant un de ses principaux inconvénients réside dans la facilité d'une mauvaise manipulation.
Dans ce volume, vous ferez la connaissance de
trois grands maîtres de la Boule Zombie
, et découvrirez leur interprétation personnelle du tour.
Al Schneider
commence votre cours de perfectionnement avec une courte mais néanmoins énergique routine, idéale pour les récents initiés à la Boule Zombie, leur permettant ainsi de se familiariser avec les mouvements et manipulations de base.
Il vous propose également quelques conseils avisés sur comment adapter vos supports pour une meilleure illusion.
Jeff McBride
vient ensuite vous proposer ce qui est certainement la présentation de la Boule Zombie la plus élaborée jamais réalisée. Chaque mouvement est décrit et expliqué dans les moindres détails notamment les différentes façons de réaliser la routine.
Il vous apprend également de quelles façons présenter l'illusion sans le gimmick de base.
Enfin,
Tommy Wonder
vous présente les modifications révolutionnaires qu'il a apporté au tour et les effets surprenants réalisables.
Si vous avez toujours souhaité faire partie de ceux qui présentent à merveille la Boule Zombie, vous ne trouverez pas de meilleure information que dans ce DVD.
Au sommaire :


AL SCHNEIDER
- Zombie Ball


JEFF MCBRIDE
- Gimmicks and Ball
- Quick Start Opening
- Floating Technique
- The Cradle
- The Arm Balance
- Down the Edge
- Around the Arm
- Around the Back & Neck
- Double Spiral
- Zombie Vanish & Reproduction
- Beginning & Ending Your Routine
- Bare Handed Float
- Floral Finale


TOMMY WONDER
- Zombie Ball
Langue
: Anglais,
Durée
: 50 min

Retour au catalogue




Nous vous conseillons avec ce produit :
1.
Foulard zombie de luxe
9.5 €

3.
Shining Speaker Skull
325 €