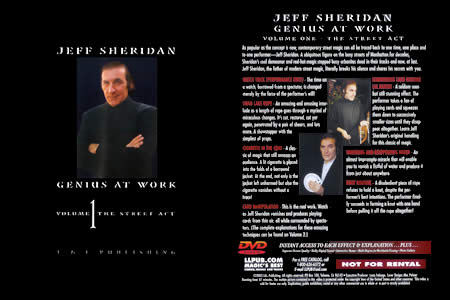 Description
La magie de rue est un concept très populaire de nos jours, et on le doit à
Jeff SHERIDAN
.
C'est une figure omniprésente dans les rues de Manhattan depuis des décennies.
Jeff SHERIDAN
, le père de la magie des rues moderne, brise enfin littéralement son silence et partage ses secrets avec vous.
AU SOMMAIRE :
Watch Trick (performance only)

L'heure indiquée par une montre empruntée à un spectateur est changée simplement par la volonté du magicien !



Swan Lake Rope

Un interlude stupéfiant ou amusant : une corde s'agrandit et rétrécit un bon nombre de fois. Elle est coupée, reconstituée, coupée à nouveau, tailladée, etc…



Cigarette In The Coat

Un classique de la magie qui étonne toujours le public. Une cigarette allumée est placée dans les plis d'une veste empruntée. Au final, la veste est indemne et la cigarette a disparu sans laisser de trace !



Card Manipulation

Observez comment Jeff Sheridan fait disparaître et apparaître des cartes à jouer de nulle part, tout en étant entouré par des spectateurs.

(Les explications complètes pour ces étonnantes techniques sont comprises dans le volume 2)



Diminishing Card Routine (Al Baker)

Un effet rarement vu, mais toujours étourdissant. Le magicien forme un éventail de cartes et les fait diminuer jusqu'à ce qu'elles disparaissent complètement.



Vanishing And Reappearing Water

Un miracle quasiment impromptu qui vous permettra de faire disparaître et apparaître une poignée d'eau de presque n'importe où.



Knot Routine

Un morceau de corde désobéissant refuse de rester noué, en dépit de toutes les tentatives du magicien. Il arrive finalement à former un nœud avec une main, avant de le tirer hors de la corde !


Langue : Anglais, Durée : 1h07.



Retour au catalogue
Cet article n'est
plus vendu sur Magicaplanet