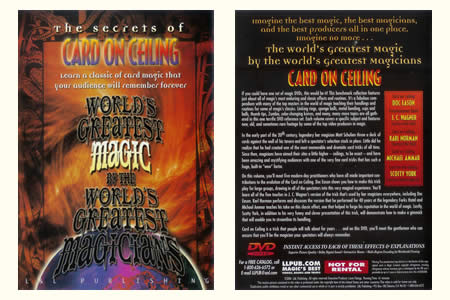 Description
Si vous deviez posséder une seule collection de DVD sur la magie ce serait celle-ci !
Cette collection de référence reprend
les meilleurs effets et routines de la magie.
C'est un fabuleux recueil dans lequel de nombreux maîtres magiciens vous apprennent leurs mouvements et routines pour quelques classiques de la magie.
Anneaux chinois, balles éponges, torsion du métal, balles et gobelets, faux pouces, zombie, canifs caméléons et de très nombreux autres sujets sont tous abordés dans cette impressionnante collection de DVD de référence.
Chaque volume couvre un sujet spécifique et vous proposes quelques morceaux modernes, anciens et d'anthologie des meilleures vidéos de la magie.
Aux débuts du 20ème siècle le légendaire magicien
Matt Schulien a jeté un jeu de cartes contre le mur du bar, laissant la carte choisie par un spectateur collée sur les parois
.
À peine a-t-il réalisé qu'il avait crée un des tours de cartes les plus mémorables et fantastiques de tous les temps.
Dès lors, les magiciens ont élevé un peu la barre – au plafond pour être plus précis – et ont émerveillé et mystifié les publics avec un des rares tours de cartes qui ont un effet aussi retentissant.
Vous pourrez admirer sur ce volume
cinq magiciens contemporains
qui ont largement apporté leur contribution à l'évolution de
Card On Ceiling
(la carte au plafond).
Doc Eason
vous enseigne comment adapter ce tour à un public nombreux et plonger vos spectateurs dans une expérience magique.
Découvrez les touches personnelles de la version de
J. C. Wagner
que la plupart des magiciens présentent quel que soit l'endroit, notamment Doc Eason.
Karl Norman
vous propose et vous explique une version qu'il a présenté pendant une quarantaine d'années au légendaire hôtel Forks et
Michael Ammar
vous apprend comment réaliser son effet classique qui lui a permis de forger sa réputation dans le monde de la magie.
Enfin,
Scotty York
, en plus d'une présentation amusante et intelligente du tour, vous apprendra comment créer un gimmick afin de rationaliser les manipulations.
Card On Ceiling (la carte au plafond) est un tour dont les gens ne cesseront de parler… Grâce à ce DVD vous trouverez le magicien hors pair qui sommeille en vous et que le public ne pourra oublier.
Au sommaire :


Doc Eason
- Card on Ceiling


J. C. Wagner
- Entertainment Tacks (courtesy of Meir Yedid)


Karl Norman
- Card on Ceiling (courtesy of Meir Yedid)


Michael Ammar
- Card on Ceiling


Scotty York
- Card on Ceiling (courtesy of Murphy's Magic)



Langue
: Anglais,
Durée
: 1h01.

Retour au catalogue
Cet article n'est
plus vendu sur Magicaplanet