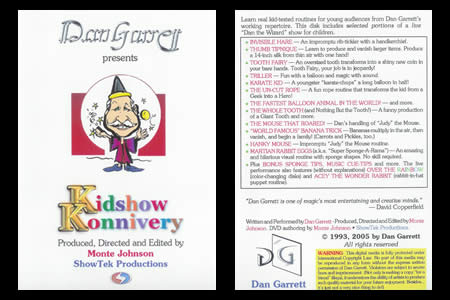 Description
Apprenez un florilège de routines testées sur des publics très jeunes, extraites du répertoire de Dan Garrett.
Vous retrouverez sur ce DVD de nombreux extraits du spectacle pour enfants « DAN le Magicien ».
« Dan Garrett est un des magiciens le plus amusant et possédant un esprit des plus créatif. » -
David Copperfield
Au sommaire:
Invisible Hare
Une routine impromptue avec un foulard.

Thumb Tipnique
Apprenez à produire et à faire disparaître de gros objets. Produisez un grand foulard en un instant et d'une seule main!

Tooth Fairy
Une grosse dent se transforme en une pièce de monnaie. Serait-ce la petite souris ?!

Triller
Une routine de ballon où magie et son s'associent pour amuser les enfants.

Karate Kid
Un jeune « karateka » va parvenir à couper un ballon en deux !

The Un-Cut Rope
Une routine de corde amusante qui transforme votre petit assistant en héros !

The Fastest Balloon Animal in the World!
La sculpture de ballon de l'animal le plus rapide du monde !

The Whole Tooth
Une production amusante d'une dent de lait géante !

The Mouse That Roared
Les manipulations de la célèbre souris de Dan Garrett.

World Famous Banana Trick
Les bananes se multiplient dans les airs, disparaissent et finalement se transforment !

Hanky Mouse
Une routine impromptue de la souris de Dan Garrett.

Martian Rabbit Eggs
Une routine incroyable et hilarante !


PLUS : des astuces pour les balles éponges, les musiques et beaucoup d'autres.


Les présentations incluent également (sans explications) Over the rainbow (des disques changeant de couleur) et Acey The Wonder Rabbit (une routine de lapin peluche dans le chapeau.).


Langue : Anglais.



Retour au catalogue
Cet article n'est
plus vendu sur Magicaplanet