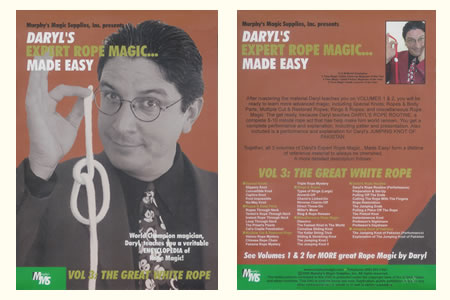 Description
Daryl, magicien et champion de renommée mondiale vous propose ici une véritable encyclopédie sur la magie des cordes en trois volumes.
Volume 3
Après l'apprentissage des bases que vous propose Daryl dans les volumes 1 et 2 de cette série, vous pourrez passer aux choses sérieuses. Vous apprendrez ainsi des nœuds spéciaux, des tours de cordes avec le corps, des coupés – raccommodés multiples, des tours avec anneaux et cordes et tout type de magie des cordes.
Daryl vous enseignera également sa célèbre routine complète,
Daryl's rope routine
pour laquelle vous profiterez des explications détaillées, de la présentation complète et des instructions du magicien. Vous trouverez également les instructions complètes pour la réalisation du nœud Jumping knot of pakistan.
Au sommaire:
Special Knots
- Slippery Knot
- Convertible Knot
- Captive Knot
- Knot Impossible
- Nu-way Knot

Ropes & Body Parts
- Ropes Through Neck
- Ropes Through Neck II
- Tenkai's Rope Through The Neck
- Instant Rope Through The Neck
- Loop Through Neck
- The Priest's Pearls
- Cat's Cradle Penetration

Multiple Cut & Restored Rope
- Vishnu Rope Mystery
- Chinese Rope Chain
- Panama Rope Mystery
- Triple Rope Mystery

Rings & Ropes
- Types of Rings (Large)
- Anverdi-Off
- Chanin's Linked-On
- Reverse Chanin-Off
- Direct Throw-On
- Miller's Move
- Ring & Rope Release

Miscellaneous Rope Magic
- Dissolvo
- The Fastest Knot In The World
- Cornelius Sliding Knot
- The Kellar String Trick
- Sliding & Vanishing Knot
- The Jumping Knot I
- The Jumping Knot II

Daryl's Rope Routine
- Daryl's Rope Routine Performance
- Preparation & Set-Up
- Pulling Off The Ends
- Cutting The Rope With The Fingers
- Rope Restoration
- The Jumping Ends
- Pulling a Piece Off Of The Rope
- The Pretzel Knot
- Instantaneous Knot
- Professor's Nightmare
- Professor's Daydream

Jumping Knot of Pakistan Steve- it shows white knots jumping off red rope
- The Jumping Knot of Pakistan Performance
- Explanation for Jumping Knot of Pakistan


Langue : Anglais.



Retour au catalogue
Cet article n'est
plus vendu sur Magicaplanet