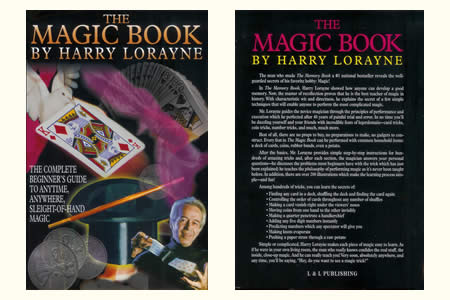 Description
M. Lorayne guide le magicien novice au travers des principes de présentation et de réalisation qu'il a mis au point pendant plus de 40 ans de douloureux essais parfois ratés. En un rien de temps, vous pourrez vous étonner vous même et surprendre vos amis grâce aux extraordinaires prouesses – tours de cartes, tours de pièces, tours de calculs… que Lorayne vous apprend à réaliser.
Le meilleur du meilleur c'est que vous n'avez rien à acheter, aucune préparation à mettre en place, aucun gadget à construire… Toutes les prouesses que vous propose cet ouvrage sont réalisables avec de objets de tous les jours, un jeu de cartes, des pièces, du scotch, des élastiques, et même une pomme de terre.
Après les bases, M. Lorayne vous fourni des instructions détaillées pour réaliser des centaines de tours étonnants. Après chaque partie, le magicien répond à vos questions (il évoque notamment la plupart des problèmes rencontrés par les débutants après l'apprentissage d'un tour, il explique la philosophie de la magie comme personne). De plus cet ouvrage contient plus de 200 illustrations permettant de simplifier l'apprentissage et de le rendre plus divertissant.
Vous apprendrez entre autres :
Trouver n'importe quelle carte dans un jeu, le mélanger et retrouver la carte.

Contrôler l'ordre des cartes après plusieurs mélanges.

Faire disparaître une carte sous le nez des spectateurs.

Faire voyager une pièce d'une main à l'autre.

Faire passer une pièce à travers un foulard.

Prédire les chiffres choisis par les spectateurs.

Faire disparaître des noeuds.

Faites passer une paille de papier dans une patate crue.


Au sommaire:


TIPS AND TECHNIQUES

CARD FLOURISHES

CARD HANDLING AND SLEIGHTS

SLEIGHT-OF-HAND EFFECTS AND ROUTINES

PRACTICALLY SELF-WORKING CARD ROUTINE

BASIC COIN SLEIGHTS

COIN MAGIC

NUMBER MAGIC

MENTAL EFFECTS

MISCELLANEOUS MAGIC


Langue : Anglais, Format : 15,9 x 23,7 cm, 306 pages illustrées.



Retour au catalogue
Cet article n'est
plus vendu sur Magicaplanet