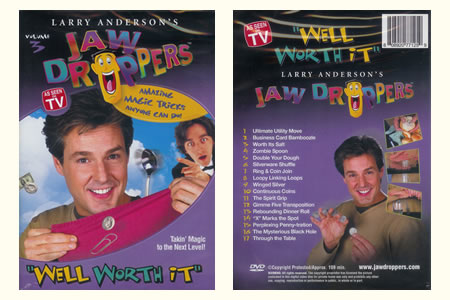 Description
Le DVD Jaw Droppers Vol 3 vous propose une démonstration de chaque tour réalisé par un expert du close-up , le magicien
Larry Anderson
et suivi des explications étape par étape dudit tour. Vous pouvez vous aussi surprendre vos amis avec un peu d'entraînement. Apprenez un seul de ces tours et faites impression, vous découvrirez la vraie valeur de ce DVD !
« Avec ces tours vous pourrez faire tant impression que les gens se souviendront de vous pendant des années. Il n'y a pas meilleur façon pour briser la glace que la magie : collègues de travail, personnes spéciales à vos yeux… tous seront enchantés. »
Larry Anderson.
Sommaire :
Ultimate Utility Move

Business Card Bamboozle

Worth Its Salt

Zombie Spoon

Double Your Dough

Silverware Shuffle

Ring & Coin Join

Loopy Linking Loops

Winged Silver

Continuous Coins

The Spirit Grip

Gimme Five Transposition

Rebounding Dinner Roll

Perplexing Penny-tration

"X" Marks the Spot

The Mysterious Black Hole

Through the Table


Langue: Anglais, Durée : 109 min.

Retour au catalogue
Cet article n'est
plus vendu sur Magicaplanet