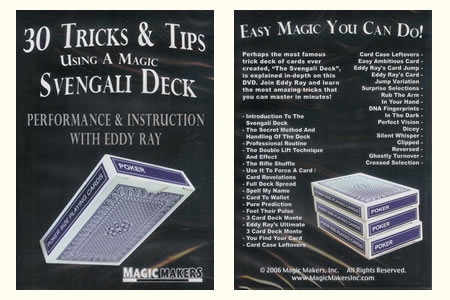 Description
Certainement le jeu de cartes le plus renommé,
le jeu Svengali
, est, dans ce DVD, expliqué dans le moindre détail. Rejoignez
Eddy Ray
et découvrez les tours les plus surprenants que vous pourrez réaliser en quelques minutes avec un jeu Svengali.
Ce DVD vous fera découvrir 30 tours et astuces réalisables avec un jeu Svengali. En bonus vous trouverez un jeu Svengali taille poker de qualité.
Dans ce DVD vous apprendrez les tours et techniques suivantes :
Introduction to the Svengali Deck

Secret Methods and Handling

Difference Between Short & Long Cards

Professional Routine

Double Lift Technique

The Riffle Shuffle Forcing A Card/Card Revelations

Full Deck Display

Spell My Name

Card To Wallet

Pure Prediction

Feel Their Pulse

3 Deck Monte

Eddy Ray's Ultimate 3 Pile Monte

You Find Your Card

Card Case Leftovers

Easy Ambitious Card

Eddy Ray's Card Jump

Eddy Ray's Card Jump Variation

Surprise Selections

Rub The Arm

In You Hand

DNA Fingerprints

In The Dark

Perfect Vision

Dicey

Silent Whisper

Clipped

Reversed

Ghostly Turnover

Crossed Selection


Langue: Angais.



Retour au catalogue
Cet article n'est
plus vendu sur Magicaplanet