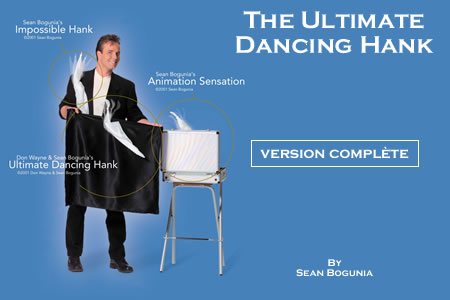 Description
Quoi de plus magique que de donner vie à un objet ?
Voici le complet de l'incontournable foulard dansant de
Sean Bogunia
, comprenant les 3 tours suivant :
- The Animation Sensation.
- The Ultimate Dancing Hank.
- The Impossible Hank.
Ce lot vous permettra de faire une routine complète pour animer le foulard à volonté dans tous les sens.
Grâce à son
entière autonomie
vous pourrez faire à votre guise pendant qu'il salut les spectateurs, danse,… Cela vous permettra aussi de rajouter du comique à ce fabuleux tour du foulard dansant.
Avec ce tour
Sean Bogunia
vous offre d'innombrable possibilité de routines dont la limite n'est que l'imagination.
La télécommande vous permettra de choisir le programme que vous voulez à distance.
Programmable donc autonome vous n'aurez pas besoin d'assistant.
Pour tout public ce tour fera rire petit et grand.
D'incroyables effets se succèderons.


Exemple de routine :

Au début il sortira timidement de la valise mais rapidement vous pourrez le prendre à l'aide d'un grand foulard, vous pourrez même aussi l'enfermer dans une bouteille ou il va pousser le bouchon pour en sortir et revenir dans vos bras.

Vous allez aussi pouvoir le prendre sans rien juste lui le petit foulard blanc et le poser sur votre épaule ou dans la pochette de votre veste ou bien même sur une table où il continuera à danser avec vous dans le rythme de la musique.

Retour au catalogue
Cet article n'est
plus vendu sur Magicaplanet