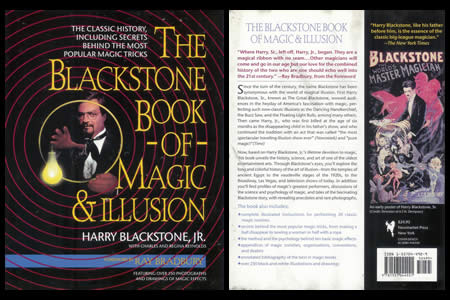 Description
L'histoire complète de Blackstone accompagnée d'une description variée de l'histoire et des techniques de l'art de l'illusion. Découvrez l'art de la magie depuis le temps des pharaons en passant par les années 1920 jusqu'à la magie contemporaine.
Harry Blackstone
vous propose de revoir les meilleurs magiciens de l'histoire de la magie, d'apprendre l'impact des effets psychologique mais aussi de réaliser des routines de base.
AU SOMMAIRE :
Introduction : the world of magic (le monde de la magie).

From caveman to modern conjuror : a short history of the art of illusion (depuis l'homme des cavernes jusqu'au magicien moderne: petite histoire sur l'art de l'illusion).

The science of illusion (la science de l'illusion).

Performing magic (faire de la magie).

Bibliography.

Appendices.

Index.


Avantages

Un livre fort en images.

Pour les passionnés de la magie.

Pour débutants comme pour professionnels.

Des routines très détaillées.


Langue : Anglais. 230 pages largement illustrées Format : 21 x 26,9 cm.




Retour au catalogue
Cet article n'est
plus vendu sur Magicaplanet