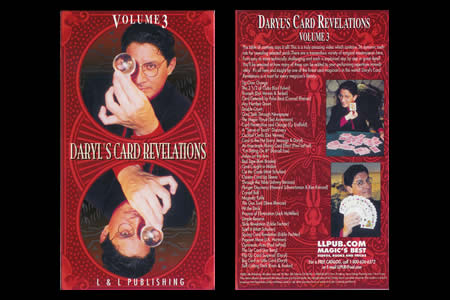 Description
Ce DVD vraiment étonnante contient 36 méthodes pour révéler des cartes choisies. Vous trouverez une formidable quantité de chefs-d'œuvre, faciles et compliqués. Chacun est expliqué pas à pas et en détail. Vous pourrez immédiatement en inclure un grand nombre à votre répertoire.
Daryl
's Card Revelations est un must à avoir dans votre bibliothèque.
AU SOMMAIRE :
Tip-Over Change


The 3 ½ of Clubs (Karl FULVES)


Triumph (Dai VERNON & Tenkai)


Card Detected by Pulse Beat (Conrad RHEINER)


Any Number Down


Double Count


Card Stab Through Newspaper


The Magic Thrust (Ted ANNEMANN)


Card Penetration and Change (Cy ENDFIELD)


A "Sense of Touch" Discovery


Hit the deck


Cocktail Cards (Dai VERNON)


Card in the Hat (Larry JENNINGS & Daryl)


An Impromptu Rising Card Effect (Paul LEPAUL)


"I'm Sitting On It !" (Karrell FOX)


Ashes on th Arm


Red Tape (Ken BROOKE)


Process of elimination


Card Caught in Midair


Cut the Cards (Matt SCHULIEN)


Chosen Card Up Sleeve


Through the Table (Johnny BENZAIS)


Plunger Discovery (Howard SCHWARTZMAN & Ken KRENZEL)


Crystal Ball


Magnetic Knife


The Gun Trick (Steve BLENCOE)


Simple reverse


Slide revelation


Spell it


Spring card revelation


Popover Moke (J.K. HARTMAN)


Gymnastic Aces (Paul LEPAUL)


Flip Up Card (Joe BOERG)


Flip Up Card Surprise ! (Daryl)


Big Card or Little Card (Daryl)


Self-Cuting Deck (Fenn & Jordan)





Langue :Anglais - Dvd multizone



Retour au catalogue




Retrouvez cet article de magie dans :
1.
Lot Daryl's Card Revelations
160 €

Nous vous conseillons avec ce produit :
1.
DVD Tagged
29.5 €

2.
WireGram 3 de Coeur
20 €

3.
Sonata (Version Française)
40 €