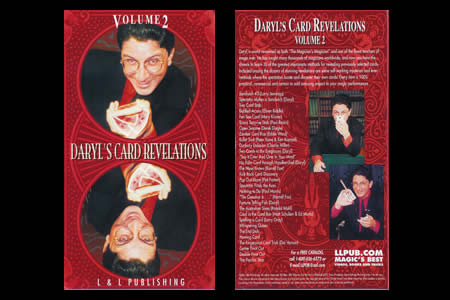 Description
Daryl
est mondialement reconnu comme l'un des meilleurs professeurs de magie. Il a enseigné à de nombreux magiciens du monde entier, et aujourd'hui vous avez la chance d'apprendre 30 des plus grandes méthodes impromptues pour révéler des cartes choisies au préalable. Des dizaines de révélations étourdissantes, et même des routines où les spectateurs trouvent l'emplacement de leurs propres cartes révélé !
AU SOMMAIRE :
Sandwich #3 (Larry JENNINGS)


Spectator Makes a Sandwich (Daryl)


Two Card Stab


Biddled Across (Elmer BIDDLE)


Fan See Card (Mary KINSON)


Rosini Surprise Stab (Paul ROSINI)


Open Sesame (Derek DINGLE)


Zombie Card Rise (Eddie WARD)


Bullet Trick (Peter KANE & Ken KRENZEL)


Dunbury Delusion (Charlie MILLER)


Two Cards in the Eyeglasses (Daryl)


"Say It Over And Over In Your Mind"


No Palm Card through Handkerchief (Daryl)


The Nose Knows (Karrell FOX)


Kick Back Card Discovery


Pop Out Move (Piet FORTON)


Spectator Finds the Ace


Nothing to Do (Paul MORRIS)


"The Question Is …" (Karrell FOX)


Fortune Telling Fish (Daryl)


The Australian Sixes (Ronald WOHL)


Card in the Card Box (Matt SCHULIEN & Ed MARLO)


Spelling a Card (Larry GRAY)


Whispering Queen


The End Stab


Homing Card


The Fingerprint Card Trick (Dai VERNON)


Center Pivot Out


Double Pivot Out


The Psychic Stop





Langue :anglais - Dvd multizone



Retour au catalogue




Retrouvez cet article de magie dans :
1.
Lot Daryl's Card Revelations
160 €

Nous vous conseillons avec ce produit :
1.
Auto deck final vision
15 €

2.
Le Jeu Brainwave Bicycle
12 €