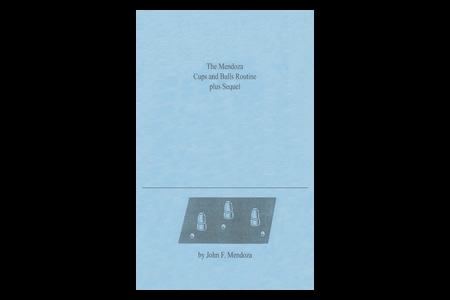 Description
Cette routine comporte de nombreux avantages :
Elle abolit en effet toutes les disparitions clichées où la balle passe d'une main à l'autre.

De plus, les mouvements de la balle sont étonnamment originaux. Rien ne laisse imaginer au spectateur ce qu'il va se passer dans les minutes suivantes.

Les grosses charges sont indépendantes les unes des autres et réparties tout au long de la routine (et non regroupées à la fin). Le rythme des charges est tel que le spectateur en arrive à penser que vous cherchez à lui simplifier la routine en diminuant à chaque fois le nombre de gobelets et de balles. Vous commencez en effet avec trois gobelets puis passez à deux avant de terminer avec un seul.

En outre la routine est simple à réaliser.

Enfin, les mouvements à réaliser sont limités et la conjugaison des gobelets et balles magiques est subtilement employée.

Au sommaire :


The cups and balls (les gobelets et balles magiques).


The routine.


The sequel.


24 pages illustrées. En anglais.



Retour au catalogue
Cet article n'est
plus vendu sur Magicaplanet