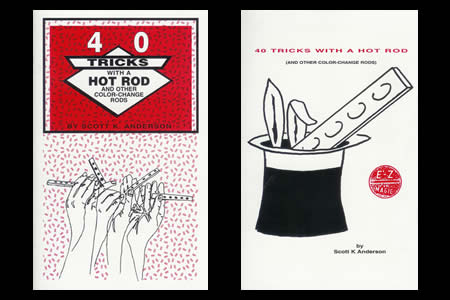 Description
Vous venez d'acquérir un Hot Rod mais vous ne savez pas l'utiliser ? Vous possédez déjà un Hot Rod et vous aimeriez l'utiliser dans de nouveaux tours ?
Scott Anderson a écrit ce livre pour vous : plein de nouvelles routines et de nouvelles idées pour épater votre public, 40 au total.
Lisez et apprenez à manier ce petit morceau de plastique à peine plus grand qu'une cigarette pour réaliser des miracles et faire alors partie des grands de la magie de ce monde.
Au sommaire :
Introduction.

The Hot Rod.

Various moves (mouvements divers).

Tricks with household items (tours avec des objets ordinaires).

Tricks made from household items (tours à partir d'objets ordinaires).

More tricks and routines (encore plus de tours et de routines).

Mini-routine and patter (mini-routine et petites phrases).

Ces tours incluent entre autre signed card, paperfold vanish, in ear out nose, six colored cardsetc.


Pour magiciens débutants comme pour magiciens professionnels.

Des nombreuses instructions détaillées.

De nombreux mouvements à intégrer à vos routines.

Des idées de routines mais aussi des idées de phrases.


32 pages illustrées.
En anglais.

Retour au catalogue
Cet article n'est
plus vendu sur Magicaplanet