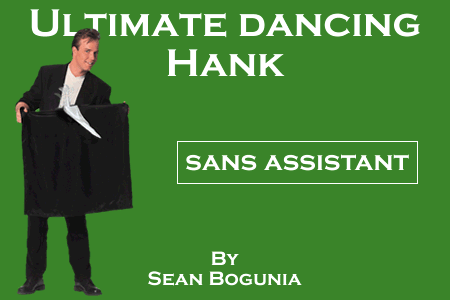 Description
Le meilleur effet de foulard dansant jamais vu !
Une nouveauté exclusivement vendue aux USA

Maintenant vous pouvez exécuter le mouchoir dansant classique
tout seul
avec cet appareil fournit tout nouveau et révolutionnaire de précision.
Vous avez bien lu : plus d'aides, juste vous ! Et ce gimmick électronique est
sous votre commande complète à tout moment
!!!
EXEMPLE D'UTLILISATION :
(vous êtes libres de faire votre propre enchaînement)
Le foulard fait son apparition, il commence à danser et se déplace jusqu'au dessus de votre épaule. Il rentre même dans de votre poche de veste (pas de bluff).
Le foulard est lâché, il danse à vos pieds, et sur votre commande saute vers vous !
Comme final, vous mettez le foulard dans une bouteille, que vous prenez bien soin de fermer avec un bouchon, avant de vous éloigner de celle-ci. Malgré toutes ces contraintes, l'impossible va se produire… en effet le foulard va s'animer à l'intérieur de la bouteille (Examinable et non fournie) avant de violemment faire sauter le bouchon pour vous rejoindre.
LE GRAND AVANTAGE :
Il s'agit d'un tour qui peut être réalisé n'importe où et dans n'importe quelle conditions : Salon, scène, même à l'extérieur.
Le gimmick microélectronique construit avec précision est d'un seul bloc et donc facile à manier (avec un peu d'entraînement). Il vous permettra de manœuvrer et animer le foulard comme bon vous semble.
AUCUN ASSISTANT NI COMPERE
. Tout est sous votre contrôle à tout moment.
Un effet scénique très magique
.
Quelques avis de magiciens célèbres :
'I'll take one.' -- Jeff McBride


'No assistance? Really? You fooled me to pieces. Loved it!' - Gene Anderson


'In all my years on stage, I've never seen a practical one-man dancing hank... until now! I was completely fooled... Absolutely no offstage assistance!' - Abb Dickson


'Finally an Illusion that I can perform without Jonathan!' - Charlotte Pendragon

Retour au catalogue


Nous vous conseillons avec ce produit :
2.
The PTS
2200 €