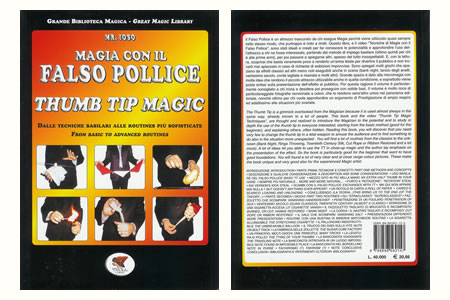 Description
Ce livre a été pensé et réalisé afin d'initier le magicien à l'utilisation du Faux Pouce, en commençant par la méthode basique, puis en expliquant les autres, souvent secrètes. En lisant ce livre, vous découvrirez que vous n'aurez pas besoin de grand chose pour transformer votre FP en arme fatale, pour amuser votre public et trouver quoi faire dans les situations les plus inattendues.
AU SOMMAIRE :
Introduction
Part one : Methods and Concepts
- A description and some considerations
- Basic Thumb Tip use
- An extra half thumb in your hand
- More and more natural
- Rotation Steal
- The Dai Vernon's Kick Steal
- Exchanges with it
- But doesn't anything ever appear?
- A roll of paper
- Loading and unloading
- This bring us to the end (of the theory)


Part two : Routines
- Superclassics
- Vanishing handkerchief
- Penetration of silk
- Twentieth century silk
- Lit cigarette vanish
- Burned, or cut, hankie restored
- Bank night
- Cut rope or ribbon restored
- Vanishing salt


More Presentations
- Matchbook routine
- The stretching cigarette
- The unbreakable balloon
- Nuts on bolt trick
- The sugar cube factory
- One principle, many tricks
- The tying of your thumbs
- The traveling note
- Note found in impossible place
- Note in purse
- Fakirism


Conclusion
Bibliography


Langue : Anglais, Italien - Format : 15 x 20,9 cm - 176 pages – Illustré.



Retour au catalogue




Nous vous conseillons avec ce produit :
1.
DVD The Secrets of Thumb Tips
22.5 €