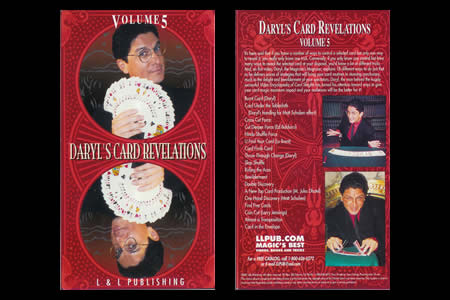 Description
Il est dit que si vous connaissez de nombreux moyens de controler une carte choisie, mais seulement une façon de la révéler, vous ne connaissez qu'un tour. Réciproquement, si vous connaissez une seule façon de la contrôler, mais que vous pouvez la révéler de plusieurs façons différentes, alors vous connaissez plein de tours différents. Et, sur cette vidéo,
Daryl
explique 18 différentes façons de le faire.
AU SOMMAIRE :
Burnt Card (Daryl)

Card Under the Tablecloth (Daryl's handling for effect)

Cross Cut Force

Cut Deeper Force (Ed BALDUCCI)

Hindu Shuffle Force

U Find Your Card (Lu BRENT)

Card Finds Card

Throw Through Change (Daryl)

Slop Shuffle

Riding the Aces

Bewilderment

Double Discovery

A New Top Card Production (M.Jules DHOTEL)

One Hand Discovery (Matt SCHULIEN)

Find Five Cards

Coin Cut (Larry JENNINGS)

Almost a Transposition

Card in the Envelope


Langue : Anglais - Standard : PAL.



Retour au catalogue
Cet article n'est
plus vendu sur Magicaplanet