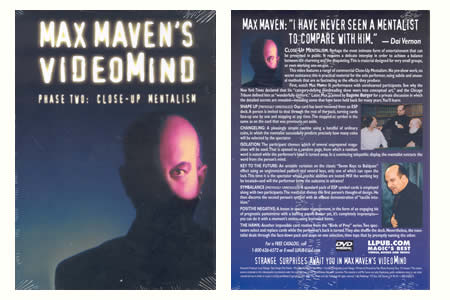 Descripción
Regardez d'abord la performance de
Max Maven
, et comprenez pourquoi le
Chicago Tribune
le qualifie de "merveilleusement ésotérique".
Ensuite Max est rejoint par
Eugene Burger
pour une discussion privée où sont révélés les secrets dont certains jamais dévoilés.
SUMMARY :
Shape up (previously unrevealed) : Une carte est retirée d'un jeu ESP. Puis une personne est invitée à distribuer le reste des cartes du paquet, les retournant unes par unes, et s'arretant à n'importe quel moment. La carte où le spectateur s'arrête à la même symbole que la carte précédemment retirée.

Changeling : Un tour trés simple à réaliser avec une poignée de pièces. Le mentaliste devine combien de pièces ont été choisies par le spectateur.

Isolation : Le participant choisi un magazine parmi plusieurs, l'ouvre à une page quelconque, et choisi un mot. Grâce à ses pouvoirs télépathiques, le mentaliste extrait le mot de l'esprit du spectateur.

Key to the future : Une sympathique variation sur le classique "Seven Keys to Baldpate", utilisant un cadena et plusieurs cléfs, dont une seule peut ouvrir le cadenas. Cette fois ce sont les facultés mentales du spectateur qui sont téstées. Va t'il trouver la bonne cléf, et le mentalist la connait-il à l'avance ?

Symbalance (previously unrevealed) :Un paquet ESP est utilisé et deux participant sont conviés à piocher des cartes. Le mentaliste devine la carte du premier par la pensée et la seconde par simple contact avec la carte.

Positive Negative : Une lesson dans l'art du management du public.

The Hawk : Encore une routine de cartes impossible basée sur la série "Birds of Prey". Deux spectateur choisissent chacuns une carte et la remettent dans le paquet pendant que le spectateur a le dos tourné. Ils mélangent le paquet. Aucun problème, le mentaliste les retrouve.

Durée :57 min.
DVD en anglais.

Volver al catálogo
Este artículo ya no se vende en Magicaplanet