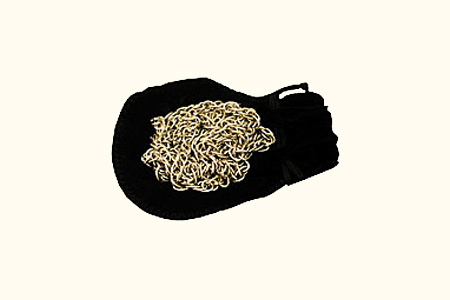 Descripción
¡Gracias a esta cadena de calidad, propones un juego de apuesta interactivo a un espectador!
En efecto, pones la cadena sobre la mesa de manera que forme un rectángulo con una "equis" en el interior.
Por tanto, hay 4 triángulos en el interior duel rectángulo.
Pero solo nos interesan los triángulos de izquierda y derecha para el juego.
Pides a un espectador que ponga un dedo dentro de uno de los dos triángulos y ¡cuando tiras de la cadena, si esta se libera, tú ganas la apuesta pero si la cadena queda sujeta a su dedo gana él!
¡Podrás controlar el juego y ganar siempre!
¡Podrías apostar como en el Trile y ganar dinero si lo deseases!
¡Tienes muchas opciones de presentación gracias a este accesorio tremendamente eficaz!
Efecto ultra-visual
Fácil de hacer
Juego de apuestas de azar divertido e interactivo
Se puede hacer rodeado
Todo es examinable
No requiere preparación
Ideal para la magia de mesa en mesa
Dimensiones de la Cadena: Diámetro: 78 cm
Incluye un Saquito para llevarla
Sin Instrucciones
Es aconsejable conseguir el DVD: "DVD The Secrets of The endless Chain"

Volver al catálogo