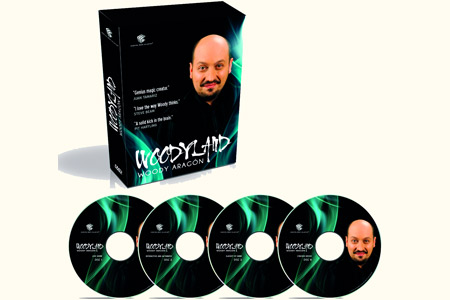 Descripción
Woody Aragon tiene un don espectacular. Ha creado milagros automáticos con las cartas, rutinas que le dejan a uno boquiabierto al mismo tiempo que son muy divertidas. En los últimos años, Woody Aragon se ha forjado una sólida reputación gracias a los premios que ha recibido por toda Europa. Aquí tiene ud. sus rutinas totalmente explicadas a lo largo de 4 DVDs.



Contenido :
Disco 1
:
Contiene su número entero en el "Lagrimas Hotel" de Coimbra. El espectáculo contiene los clásicos de Woody : "Blessed Poker", "Oil & Water", "Follow The Leader", "Divination Ring", su increíble rutina de deletreos, "Bumblebees" que ha sido premiada y muchas otras más. Woody explica cada rutina igual que la construcción de su espectáculo.
Disco 2
:
El 2º DVD se concentra en la magia interactiva y semi-automática. Este comprende "The Other Half", "Man with Three Hands", "Australian Poker", "The Impossible Sum", "Weighing the Cards" y la asombrosa versión automática del "ACAAN" de Woody. Si ud. busca un milagro automático, aquí lo tiene.
Disco 3
:
Detalla las rutinas que necesitan un poco de manipulación como "Progressive Order", "Torn Corner Ambitious Card", "Gabi's Switch", "Covered False Shuffle", "Dorset et Triumph".
Disco 4
:
Aborda el trabajo de Woody sobre las ordenaciones, con rutinas increíbles como las de "Si Stebbins", "Si Senor", "Si Fry", "The Mentalist", y su rutina premiada de Deletreos, una pequeña joya que le van a sorprender.
Igualmente incluye, una entrevista de Woody donde habla de su vida mágica, de su obra y de sus inspiraciones.
Woodyand es en inglés, subtitulado en cuatro lenguas : inglés, español, francés y japonés. Filmado en HD en Portugal por Luis de Matos Productions.
4 DVDs Multilenguas
Duración Total 10h03
Efectos, ideas y rutinas asombrosas
Por el increíble mago Español : Woody Aragon
Producido por Luis de Matos : Essencial magic collection (EMC)

Volver al catálogo
Este artículo ya no se vende en Magicaplanet