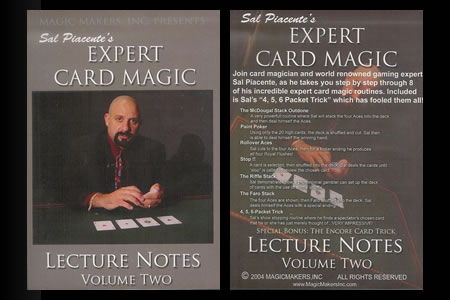 Descripción
Sal Piacente est un magicien américain mondialement renommé pour ses routines de cartes. Il vous présente dans ce DVD 8 incroyables routines, dont la fameuse '4, 5, 6 Paquet Trick'.
AU SOMMAIRE :
The McDougal Stack Outgone
Une belle routine où Sal perd les 4 As dans le jeu et fini par se les distribuer.


Paint Poker
Sal utilise uniquement les 20 plus grosses cartes du jeu qu'il mélange et coupe. Il est ensuite capable de se distribuer la main gagnante !


Rollover Aces
Sal coupe sur les 4 As, puis au final produit 4 quintes royales !


Stop !!
Une carte est choisie, puis perdue dans le jeu. Sal distribue les cartes jusqu'à ce que le spectateur dise 'stop'. Il retourne la dernière carte distribuée, c'est le carte choisie.


The Riffle Stack
Sal montre comment un joueur professionnel peut préparer son jeu en le mélangeant!


The Faro Stack
Les 4 as sont montrés et sont ensuite perdus dans le jeu par un Faro. Sal se distribue ensuite les 4 as!


4, 5, 6 Paquet Trick
Sal montre sa superbe routine où il retrouve une carte choisie par un spectateur qui l'a simplement pensée....Très impressionnant !

BONUS :


The encore card trick

DVD en anglais


Volver al catálogo
Este artículo ya no se vende en Magicaplanet