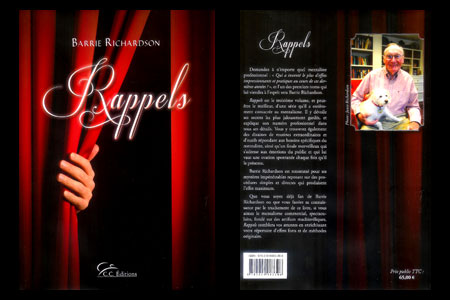 Descripción
Profesor emérito de Universidad,
Barrie Richardson es además uno de los mentalistas más reputados del mundo
. Es conocido por sus misterios insospechables que se basan sin embargo en procedimientos sencillos pero directos y que producen el máximo efecto.
Este libro, es el tercero de una trilogía (son Theatre of the Mind y Act Two, publicados en francés por ediciones Magix bajo los títulos de Mental Magic y Mental Miracles) este tercero es seguramente el más exitoso. Revela sus mejores efectos celósamente guardados en secreto, de su espectáculo profesional completo !
Rappels ofrece una selección de las mejores creacciones e sélection des meilleures créations provinientes de la mente de Barrie Richardson a lo largo de los últimos años, además de las mejoras de los efectos que realiza en su repertorio desde hace más de diez años.
Entre estos juegos están los más guardados hasta ahora, y encontrarás la explicación de los efectos siguientes :
Una llave antigua se gira sobre sí misma y levita sobre la mano del mentalista.
¿ Es que está poseida o que el mago tiene telekinesis ? El método que se explica aquí es con una llave normal que puede ser examin ada antes y después de el efecto y que, no solamente no tiene nada que envidiar a los métods con llaves trucadas y caras usadas habitualamente para hacer este efecto sino que e incuso superior.
Un lápiz cualquiera que está en la mano abierta palma arriba del mentalista y cuando se le piide a un espectador que le coja, bajo el efecto de la sugestión no no tendrá fuerza para cogerlo !
Cuando la sugestión mental pasa, el espectador puede coger el lápiz normalmente sin esfuerzo y examinarlo a pplacer.
El mentalista escribe una palabra elegida en un trozo de papel. Se invita a un espectador a que se mueva en una librería, que elija cualquier libro de una estantería, que lo abra y que elija cualquier palabra al azar. Cuando dice la palabra elegida resulta que es la que escribió el mentalista !
Ese mismo espectador se fija en el número de la página del libro en la que encontró su paalabra y un asistente lo adivina !
También se describe aquí cómo hacer que distintos objetos respndan a los deseos del mentalista
, Algunos de estos scretos publicados por primera vez :
- métodos para conocer secretamente lo que un espectador ha escrito en un papelito ;
- procedimietos para cambiar secretamente un papelito por otro ;
- un sobre trucado le permite a ud. saber lo que un espectador ha escrito en un papel y que ha metido dentro, o sacarlo secretamente. El sobre puede dejarse en manos del espectador sin que descubra el secreto ;
- un método para cambiar secretamente una baraja por otra, estando el mentalista a la vista de los espectadores todo el tiempo.
Todos estos ardides han sido probados con éxito ante público por expertos.
Barrie Richardson es conocido por haber creado algunos de los métodos más sutiles de "la carta al número"(ACAAN).
En Rappels, revela la que considera que es la mejor de todas, que se realiza con una baraja normal mezclada por los espectadores.
Si ud. presenta las rutinas explicadas en este libro, mejorará su espectáculo !

Volver al catálogo