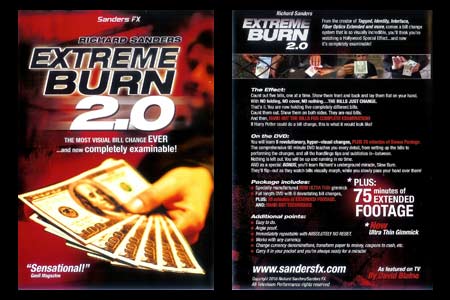 Descripción
¡Atención! ¡
Richard Sanders
vuelve con una nueva versión de Extreme burn! ¡¡¡Vas a hacer estragos!!!
Por fin
el más increíble de todos los cambios de billetes
de todos los tiempos : ¡esta vez los billetes son del todo
examinables!
Presenta un fajo de 4 o 5 billetes, uno por uno, por ambos lados, colócalos en la palma de tu mano y simplementesacúdelos…
Los billetes
se transforman inmediatamente y de una forma muy visual
en un fajo de billetes de un valor distinto al valor del primer fajo.
Es muy visual,
los billetes se transforman con una mera sacudida…
Convierte un billete de 1 dólar en un billete de 100, o transforma papel blanco en billetes, convierte moneda extranjera en moneda local…
Las posibilidades son infinitas…
Extreme Burn 2.0 contiene :
- Todo el contenido de la primera versión de Extreme Burn, más
75 minutos de programa inédito
donde descubrirás múltiples técnicas para cambiar varios billetes y que el público pueda examinarlos.
- Nuevas ideas y técnicas que te permitirán hacer un reset automático del material, aunque el público lo examine.
- Otro tipo de cambios como « The Shake », « The Snap », « Cervon » y muchos otros…
- Nuevas manipulaciones y nuevos conceptos.
- ¡Más subtítulos y más psicología!
- Un gimmick ultra fino, completamente novedoso y más resistente.
- ¡Un cargador fino para que transportes los billetes!
Fácild e hacer
Reset ultra rápido
Sin empalmes
Funciona con todo tipo de billeets(Dólares, Euros, Libras… ¡todo!)
Gimmick + DVD en Inglés
Una creación de Richard Sanders

Volver al catálogo
Este artículo ya no se vende en Magicaplanet