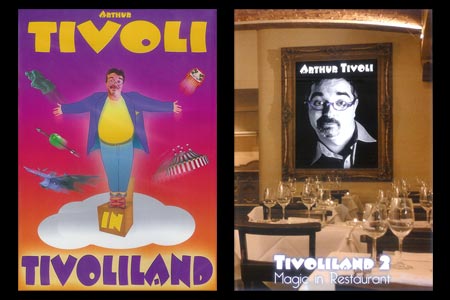 Descripción
TIVOLILAND VOLUMEN 1 :
El nuevo DVD de
Arthur Tivoli
titulado « Tivoliland », presenta con humor y poesía varios efectos de magia de cerca, salón, y escenario.
Aunque
A. Tivoli
es conocido como escultor de globos, también es un mago experimentado. En este DVD tienes la prueba indiscutible.
CONTENIDO:
Coco Chanel : El toque personal y la historia de Arthur Tivoli hacen del truco clásico de la « cuerda cortada y recompuesta » una verdadera obra de arte. Puede hacerse rodeado de público o a sólo unos centímetros de los espectadores


Three-fly Youssoupof : Una rutina, sin monedas trucadas, que se apoya en una narración para justificar cada gesto y dar valor a los efectos, haciendo de este ejercicio algo menos impersonal y muy eficaz.


Mono-gobelet : una rutina de cubiletes que se adapta a un bolsillo (sin deformarlo). El tono japonés añade misterio, poesía y diversión a este efecto clásico.


Josie la souris : Un globo transformado en animal, cobra vida y levita tras un pañuelo. Un truco de magia muy simpático para niños que cabe en un bolsillo.


Rodin : En esta rutina, Arthur Tivoli auna cartas, mentalismo, escultura de globos y carcajadas.


Puzzle : Une carta firmada, rota y recompuesta muy rápidamente. La carta está a la vista de los espectadores desde el principio hasta el final.


Tivoli's Bill Switch : Sin duda, uno de los cambios de billetes más visuales que existen. Permite transformar un billete en otro, o en una moneda, o en una carta o simplemente hacerlo desaparecer.


Clément Ader : Una rutina de con un papel para cigarrillos que se rompe y reconstruye de una manera alucinante. Las manos se enseñan permanentemente vacías.


Guillaume Tell : Un billete firmado desaparece y ¡reaparece en una manzana! Y todo con la participación del público. ¡Y el billete está limpio!


Idioma : Francés, Inglés - Duración :1h 50mn – DVD Multizona.





TIVOLILAND VOLUMEN 2 :



En este DVD, Arthur Tivoli te enseñará algunas rutinas para hacer en restaurante.

Con ayuda de objetos fáciles de transportar, bolas esponja, cartas, cuerdas…¡podrás ir de mesa en mesa haciendo las delicias de todos los presentes!

CONTENIDO :

Primera Parte :
Sponge Ball Routine
Diamond
The Rising Card
The Bill in the Pen Cap

Segunda Parte :
One Coin Routine
Ring and Rope Routine
Rope Routine
Sushi : The Stab Card without any Risk

Tercera Parte :
Broken Heart
Russia
Simplex Card to Box (with the friendly permission of Magic Dream)

Idioma : inglés, francés – Duración : 2h05.

Volver al catálogo
Este artículo ya no se vende en Magicaplanet