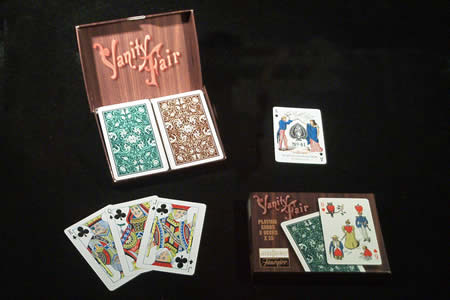 Descripción
La costumbre de usar los símbolos de color de la baraja de cartas francesa para ponerlos en diferentes zonas de una representación en particular, de la figure humana en concreto, proviene de los grabados realizados por el inglés
Hogarth
, y especialmente de
"The Company of the Undertaken"
(1736).
Grabados que han inspirado, posteriormente, a los grandes caricaturistas. Desde comienzos del Siglo XIX, en Alemania y en Inglaterra, Francia y Polonia, etc., aparecieron los primeros ejemplos de esta moda, recogida en los anuarios y calendarios de la época. Y en Alemania, con la publicación del anuario de 1805 sacaron una baraja completa de cartas de Transformación, concebida por la
Condesa Charlotte Von Jennison-Walworth
y editada por
J.G. Cotta
.
En EEUU, los americanos empezaron a hacer copias de barajas europeas, pero más tarde, a finales del Siglo XIX, se imprimen las barajas de cartas de transformación con fines publicitarios, lo que representa, para la época, una innovación en el campo de las cartas de juego
Es el fabricante USPCC de Cincinati (Ohio) el que sacó esta baraja de cartas de transformación, en 1895, con figuras reversibles y humorísticas.
cofre de 2 barajas :
Una baraja de dorso verde y de dorso marrón.

Volver al catálogo
Este artículo ya no se vende en Magicaplanet