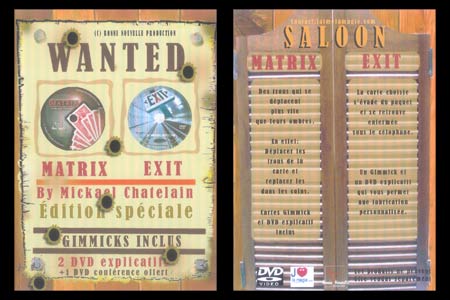 Descripción
Aquí está el regalo ideal para todos los magos profesionales.
Este
cofre
contiene
2 trucos de Mickael Chatelain
, ¡¡
Exit y su gimmick correspondiente y Matrix también completo
!! Incluye un DVD de una
conferencia
de Mickael Chatelain y de
Carlos Cardoso
titulada
Flex The Movie
.
MATRIX. RECORDATORIO DEL EFECTO :
Saca de tu baraja una carta con cuatro agujeros, uno en cada esquina. Coje uno de los agujeros entre tus dedos y haz que se deslice a la esquina opuesta.
¡Cuando retires los dedos, el público descubrirá que el agujero se ha desplazado en la carta! Ahora hay dos agujeros juntos en una esquina.
Desplaza el resto de la misma manera. El público tendrá la impresioón de que los agujeros, efectivamente, se desplazan sobre la carta. ¡El efecto es alucinante!
Al final, los cuatro agujeros se reunen en la misma esquina y los espectadores pueden examinar la carta.
¡Puedes hacer que los agujeros vayan y vengan a tu antojo!
Incluye cartas gimmick y DVD explicativo.
EXIT. RECORDATORIO DEL EFECTO :
Abre una baraja de cartas nueva, enséñasela al público y pide a un
espectador que elija una carta
que, obviamente, tú no ves.
Esta carta es, a continuación,
devuelta a la baraja
que, a su vez, es devuelta a su
estuche cerrándolo
.
Es ahora cuando
cubres el estuche con un pañuelo durante un breve instante
y, cuando lo retiras, descubrirán que la
carta elegida está entre el estuche y su precinto de celofán…
¡Saca de ahí la carta elegida por el espectador!
Gimmick y DVD explicativo para una fabricación personalizada.
FLEX THE MOVIE :
Flex The Movie es la grabación de una
conferencia
durante la cual, Mickael Chatelain
explica un buen número de sus mejores efectos
. Y además explica
cómo puedes fabricarlos
tú mismo.
Carlos Cardoso explica 7 rutinas.
Zig-zag
Bill flash card
Mental parano
Self impact
Metamorphose
Carlos Cardoso :
Elé-gants
Fusion card
Rose flash
Colour monte
Carte pensée

Card switch bill
Idioma :
francés –
Duración :
1h30 aprox.
¡Un lote excepcional ideal para magos profesionales!
Volver al catálogo
Este artículo ya no se vende en Magicaplanet