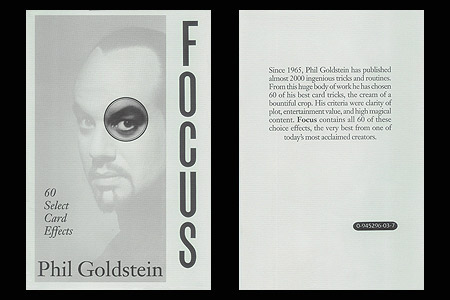 Descripción
Depuis 1965,
Phil Goldstein
a publié plus d'un millier de tours et de routines ingénieux.C'est dans cette importante fourmilière de travail qu'il a choisit
60 de ses meilleurs tours de cartes
, la crème de la crème.Ses critères de sélection ont été la créativité, le divertissement et le contenu magique.Focus contient la totalité de ces 60 effets de qualité, les meilleurs tours proposés par l'un des magiciens les plus en vogue à l'heure actuelle.Parmi les très excellents tours que vous propose cet ouvrage, M. Goldstein a enfin décidé de nous révélé sa célèbre routine « Impressions, »
avec laquelle il a abasourdi les meilleurs magiciens de la planète.
Un joker se transforme peu à peu en la copie d'une carte choisie au hasard dans le jeu, ou issue de l'imagination d'un spectateur !Et ce n'est que l'un des
60 effets surprenants de qualité expliqués dans Focus
, un ouvrage de référence signé par l"un des talents créatifs les plus extraordinaires de la magie.
Au sommaire :
Overture
No-gaff differential
Snap differential
Transfourmation
Vicinity
Twisted location
Snap collectores
Third degree
Choice flesh
A fine mesh
Inside out
Back ordered
Back gammon
Jumping bean aces
Immediate aces
Relative interchange
Brimstone elevator
Trouble backer
Naked lunch
Progression
Ascension
Sottovoce
Casanova
Five-card polka
Sidewinder
Fluttering hearts
Lassie
Printing history
Cry wolf
Packetrainer
Exitwist
Extraexitwist
Extendedexitwist
Exile
Penetration of blank
Shinkansen
Simplified FTL
Off-balance leader
Bodkin
Hopscotch
Hopscotch again
More oil, more water
Mixtant
Up and down mixtant
Tiny water
Spiralvator
Counter-revolution
Con-sequence
Chromavator
Chromatwist
Chromated
Chromatose
Tearable
Umpteenth aces
SecA ruoF
Diminishing returns
Picasso aces
Stinger aces
Impressions
Masque
Langue
: Anglais,
140
pages illustrées.

Volver al catálogo
Este artículo ya no se vende en Magicaplanet