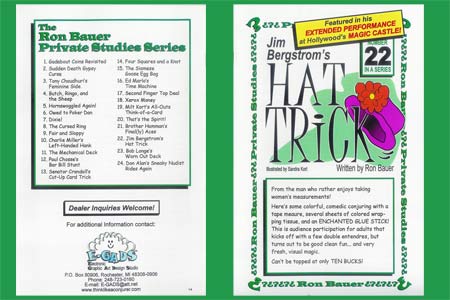 Descripción
Un nouveau cadeau pour votre public !
Ron Bauer vient juste de sortir le volume 22 de sa série Private Studies, intitulé « Jim Bergstrom's Hat Trick. »
Voici une version en couleur, comique et innovante, du mouchoir déchiré en chapeau (Torn Tissue Papers to Hat), un effet de valeur pour tout public de close-up.
Votre public restera bouche bée devant une telle frénésie de morceaux colorés de mouchoirs volant dans toutes les directions, pour laisser place à un superbe chapeau multicolore au décor floral élaboré grâce au Bergstrom's Bountiful Blossom. Quelle femme ne serait-elle pas fière de porter une telle création pendant le reste du spectacle.
The Hat Trick est maintenant disponible avec les instructions détaillées ainsi que le descriptif complet et annoté de présentation. Vous apprendrez également tous les trucs et astuces que Jim a utilisés lors de nombreux spectacles pour des publics divers et variés, depuis Grosse Pointe jusqu'à Hollywood en passant par Chicago.
Langue
: English,
32 pages illustrées
, comprend des photos et plus de 30 illustrations.

Volver al catálogo
Este artículo ya no se vende en Magicaplanet