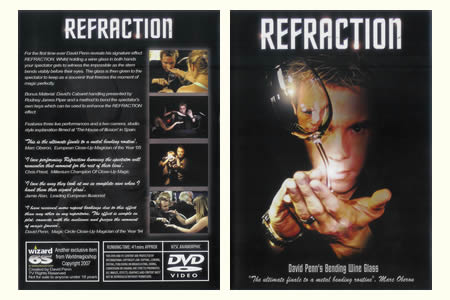 Descripción
Inédit ! David Penn vous révèle enfin les secrets de son très célèbre effet, Réfraction.
L'effet
Alors que votre spectateur tient un verre de vin emprunté entre ses mains, il est le témoin d'un évènement surnaturel…
le pied du verre se courbe sous les yeux ébahis de ce dernier.
Le verre est alors donné au spectateur en guise de souvenir, afin d'immortaliser l'instant présent.
En bonus :
Le Cabaret handling (manipulations de cabaret) de David Penn présenté par Rodney James ainsi que la technique permettant
de plier la clé d'un spectateur
, vous permettront d'améliorer l'effet REFRACTION.
Vous trouverez trois présentations en direct ainsi qu'une explication filmée par deux cameras dans « The House of Illusion » (la maison de l'illusion) en Espagne.
« C'est le final parfait pour clôturer une routine de torsion du métal. »
- Marc Oberon
, sacré Magicien de Close-up Européen pour l'année 2005.
« J'adore présenter Réfraction tout en sachant que le spectateur se souviendra de ce moment pour le restant de ses jours. »
- Chris Priest
, sacré Vainqueur Millennium (Millennium Champion) de magie de Close-Up.
« J'adore le regard ébahi des spectateurs lorsque vous leur rendez le verre signé. »
- Jamie Alan
, Grand illusionniste européen.
« J'ai eu beaucoup plus de succès qu'avec n'importe quel autre tour grâce à cet effet hors du commun. L'effet est simple, améliore les relations avec le public et grave l'instant présent à jamais. »
- David Penn
, sacré Champion anglais de magie & Champion anglais de l'illusion en 2002.
Vente interdite au mineurs.

Langue
: Anglais,
Durée
: Environ 41 min.

Volver al catálogo
Este artículo ya no se vende en Magicaplanet