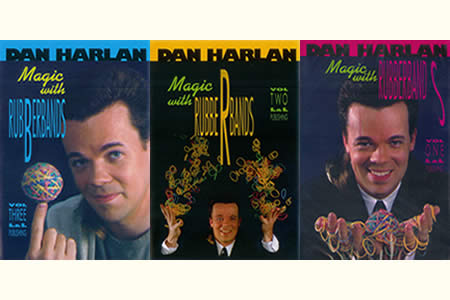 Descripción
El nom de Dan es sinónimo del
resurgimiento de la magia con gomas elásticas
cuando sus primeras creaciones empezaron a ser utilizadas por los grandes de la magia.
Su gran repertorio es respetado alrededor del mundo y ahora podrás conocerlo al detalle.
En lugar de presentar sus trucos uno tras otro, Dan ha organizado sus ideas y te propone descubrir sus creaciones en secciones con métodos complementarios para
crear rutinas que lleguen a buen término
... profesional y completo.
Hay más
técnicas, sutilezas
, y también
tesoros
en estos tres DVD de las que jamás hayas podido imaginar.
Con la ayuda de Dan aprenderás rápidamente los movimientos y manipulaciones que a veces pueden parecer complicadas, todo en un clima de paz que te dará confianza y te permitirá manipular como un gran maestro.
Volumen Uno
Contenido :
Rubber Cuffs

Mark Fitzgerald's Back Two-Gether

Soft Spot

Dave Neighbors' Twice As Crazy

Dave Neighbors' Crazy Link

Crazy Twist Vanish

Donald Carolan's Card Cuffs

Martin Gardner's Climbing Ring

John Swomley's Snap Two

Jeff McBride's Post Modern String Art

Gary Beutler's Appearing Band

Band Parenthood

2 to 1 Join

Ray Kosby's Recurring Nightmare

1 to 2 Split

Gary Beutler's Multiple Appearance

Gary Beutler's Tongue Tied

Gary Beutler's Hindu Bands.

Idioma : Inglés, Duración : 1h12.




Volumen Dos

Contenido :

Pseudo Wrist Penetration
Thumb Twist

Gary Beutler's Finger Twist

Martin Gardner's Deck Twist

Joe Rindfleisch's Delayed Snap and Penetration

David Berger's Hypnotic Link

Chris Kenner's Missing Link

Breakaway

Bobby Plaut's Break Up the Band

Spread Suspension
Resonance

Know Restored

Joe Rindfleisch's Pans

Stranded


Idioma : Inglés, Duración : 56 min



Volumen Tres


Contenido :

Rubber Morph

Willy Worm

Martin Gardner's Penetrating Matches

Michael Goldman's Snap Back

Joe Rindfleisch's Spaghetti Up Nose

Yugi Murakami's Jump Switch

Boomerang Band

Jon Allen's Star

Jeff McBride's Starweaver

Lee Freed's Latter Ladder

Greg Wilson's Timezones

Michael Ammar's Cash Delay

Acrobatclip
Stanley Collins' Jumping Rubber Band

Twist-On

Martin Gardner's Delayed Jump

One-Armed Band-Up

Doublejointed (Penetration)

Jumper Stumper

Joe Rindfleisch's Emergency Pull

Mass Vanish to Ball.

Idioma : Inglés, Duración : 1h11.

Volver al catálogo
Este artículo ya no se vende en Magicaplanet