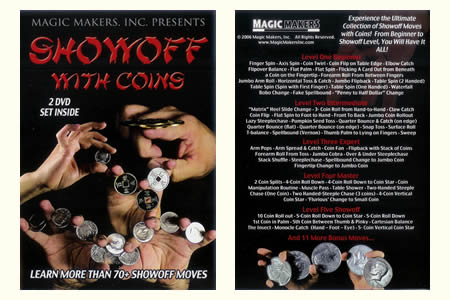 Descripción
Découvrez The Ultimate Collection of Showoff Moves with Coins (mouvements de showoff avec des pieces) !
Tout ce que vous devez savoir pour devenir un professionnel du showoff !
Ce lot de 2 DVD vous propose de découvrir plus de 70 mouvements.
Les 5 étapes de compétences vous feront passer du stade de débutant à celui de professionnel du show avant que vous n'ayez eu le temps de crier garde !
Un DVD essential !
Au sommaire :


Level one – beginner

Finger spin; Axis spin; Coin twirl…


Level two – intermediate

Matrix heel slide change, 3 coin roll from hand to hand, Claw catch coin flip…


Level three – expert

Arm pops, arm spread and catch, coin fan…


Level four – master

2 coin splits, 4 coin roll down, 4 coin roll down to coin star…


Level five – showoff

10 coin roll out, 10 coin roll down to coin star, 5 coin roll down 1st coin in palm…
Langue
: Anglais.

Volver al catálogo
Este artículo ya no se vende en Magicaplanet