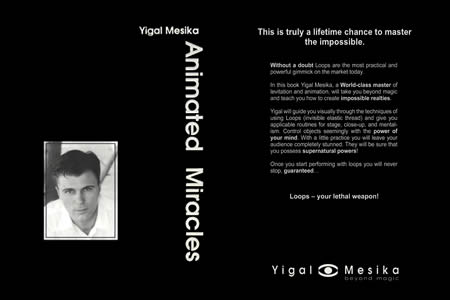 Descripción
Yigal Mesika est un incroyable jeune et talentueux magicien originaire d'Israël.
Il a mis au point de nombreux effets nouveaux et surprenants à réaliser avec du fil invisible élastique. Il a également jugé nécessaire d'améliorer la qualité du fil. Il a ainsi consacré les sept dernières années à rechercher le meilleur moyen de fabriquer du fil invisible élastique.
Ce fil peut s'étendre jusqu'à 400% de sa taille originale et il est complètement adapté, par rapport à la résistance et à la transparence, aux routines proposées dans ce livre.
Jusqu'à aujourd'hui, peu d'informations sur le fil invisible élastique étaient disponibles. Il était même méconnu et rarement utilisé.
Le but de cet ouvrage est de vous orienter au travers des techniques d'utilisation du fil élastique et de vous proposer quelques routines réalisables sur scène, en close-up ou encore en mentalisme.
La plupart de ces effets ont été crées par Yigal Mesika.
Les autres, comme indiqué ci-dessous, constituent une compilation du répertoire des magiciens, amis de Yigal.
Au sommaire :
Animated Fork
Une fourchette est placée sur une table et se met mystérieusement à bouger.
Phenomenon Fork
Une fourchette est placée sur une surface plane et commence à tourbillonner lorsque le magicien passe sa main au dessus. Elle s'arrête et repart dans l'autre direction. À peine arrêtée, elle peut être donnée à l'examen.
Falling
Un objet est placé sur une table face au magicien. Le simple fait de passer ses mains autour de l'objet le fait tomber.
The Floating Card
Le magicien tient un jeu de cartes. Il prend alors une carte du bout des doigts de la main droite et la laisse retomber, suspendue à son pouce… Il écarte alors doucement son pouce et la carte reste en lévitation dans les airs.
Jumping Fork From Glass
Le magicien fait un petit concerto en passant une fourchette sur le rebord d'un verre de vin. La fourchette est alors placée dans le verre. Le magicien dirige la fourchette en passant ses mains au dessus du verre. La fourchette se soulève alors légèrement et saute soudainement, et retombe de façon dramatique sur la table.
Mystery Glasses
Une paire de lunettes de soleil est placée sur la table. Elles se soulèvent alors toutes seules et les branches se referment.
Self Revealing Card
Une carte est choisie puis perdue dans le jeu. Les cartes sont alors rassemblées puis déposées sur une surface plane. Lorsque le magicien passe ses mains au dessus des cartes, le jeu se sépare mystérieusement. Une carte sort alors du jeu. Il s'agit de la carte choisie qui peut ensuite être donnée à l'examen.
Matchical Magnetism
Une allumette dans les mains d'un spectateur saute pour rejoindre une autre allumette dans les mains du magicien.
A Touching Trick
Le magicien fait sentir un contact à un spectateur alors que rien ne l'entour. Alors que tous les regards du public se portent sur le spectateur qui a les yeux fermés, ce dernier ressent un contact. Le public peut clairement témoigner que le magicien n'a pas touché le spectateur.
The Floating Ring
Le magicien emprunte une bague qu'il met sur son doigt. L'anneau est suspendu à son doigt. Le magicien retire alors ce dernier et la bague reste suspendue dans les airs. Le magicien la récupère alors et la rend à son propriétaire!
Langue
: Anglais

Volver al catálogo
Este artículo ya no se vende en Magicaplanet