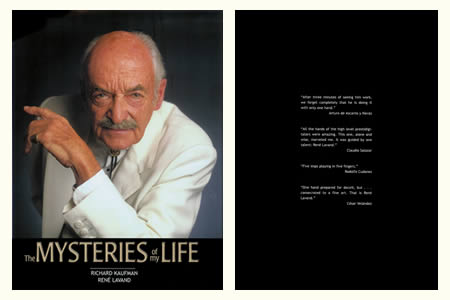 Descripción
Les secrets de la magie de René Lavand sont les secrets de sa propre vie.
Dans ce livre inédit vous trouverez deux parties :
My Mysteries,
qui vous propose de décrire dans le détail un nouveau spectacle que René a mis au point pendant de nombreuses années et
My Life,
qui est en réalité l'autobiographie de René (également appelée « Shuffling Memories »).
Dans « My Mysteries »
le célèbre auteur Richard Kaufman vous décrit les
douze routines les plus célèbres de René
, inédites jusqu'alors, qui font preuve de génie, tant dans la présentation que dans la routine elle-même.
Parmi ces douze miracles vous trouverez celui-ci : un spectateur choisit librement une carte dans le jeu, la mémorise avant de la remettre dans le jeu. Il introduit ensuite le jeu dans la poche de la veste du magicien. Lorsqu'il retire le jeu quelques secondes plus tard, il remarque que la poche est vide. Le magicien lui demande alors de remettre la main dans sa poche. Il y trouve alors
une carte pliée. Lorsqu'il l'ouvre, il s'avère qu'il s'agit de la carte choisie.
Ce n'est qu'une des douze routines déjà présentées à un public que vous propose la première moitié de ce livre. Vous trouverez également une description complète de l'étonnante routine « I Can't Do It Any Slower, » telle qu'elle a été présentée à la télévision.
Les cartes rouges et noires se mélangent puis s'ordonnent comme par magie.Dans la seconde partie de son livre, « My Life, »
René vous propose de découvrir son parcours et sa consécration, depuis l'enfant ayant perdu une main dans un accident jusqu'au célèbre magicien de renommée mondiale.
Les évènements de ses 60 dernières années sont si bien relatés que vous aurez l'impression d'être face au célèbre magicien.
Au sommaire :MY MYSTERIES : THE ACT
Preparation for the act

My visiting card

Another Credential trick

A little Diversion

Why do the colors alternate themselves?

A few red cards, a few black cards

It can't be done any slower

Ace, two, three, four

Divining

In search of excellence

I know them and I don't know how

The deck is feminine II

Remembergin my credentials

MY LIFE: SHUFFLING MEMORIES


Langue: Anglais, 169 pages illustrées



Volver al catálogo
Este artículo ya no se vende en Magicaplanet