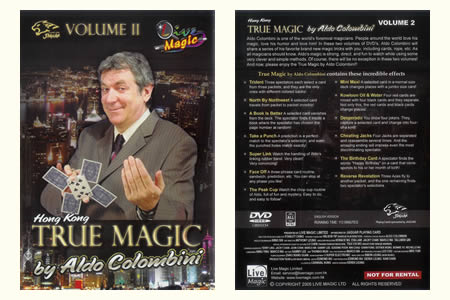 Descripción
Aldo Colombini est un des magiciens les plus renommés au monde.
Le monde entier adore sa magie, son humour, sa personne !
Dans cette série de deux DVD,
Aldo Colombini propose de partager ses nouveaux tours préférés
avec vous, que ce soit des tours de cartes, de cordes…
Comme la plupart des magiciens le savent, la magie d'Aldo est forte, directe et amusante à regarder alors que ses méthodes sont simples et astucieuses.
Bien évidement ces deux volumes ne font pas exception à la règle !
Maintenant, profitez des DVD True Magic d'Aldo Colombini !!!
Au sommaire :


Trident
Trois spectateurs choisissent chacun une carte dans trois paquets. Les cartes choisies sont les seules avec des dos de couleur différente !


North By Northwest
Une carte choisie voyage invisiblement de paquet en paquet !


A Book Is Better
Une carte choisie disparaît du jeu. Le spectateur la retrouve à l'intérieur d'un livre, à une page qu'il a choisie au hasard !


Take a Punch
Une prédiction correspond à la sélection d'un spectateur. Le nombre de trous correspond même !


Super Link
Admirez l'adresse d'Aldo avec les linking rubber bands. Très transparent ! Vraiment convainquant !


Face Off
Une routine de cartes en trois étapes, cartes en sandwich, prédictions… Vous pouvez vous arrêter quand vous le désirez !


The Peak Cup
Admirez la routine de chop cup d'Aldo, pleine d'humour et de mystère. Facile à faire, facile à suivre !


Mini Maxi
Une carte choisie dans un jeu de taille normale change de place avec une carte jumbo !


Kowloon Oil & Water
Quatre cartes rouges sont mélangées avec quatre cartes noires puis ensuite triées. En plus de cela, les cartes rouges et noires ont changé de place.


Desperado
Vous montrez quatre jokers. Ils s'emparent de la carte choisie et se transforment !


Cheating Jacks
Les quatre valets sont séparés et rassemblés plusieurs fois. Et la fin étonnante surprendra les spectateurs les plus sceptiques.


The Birthday Card
Un spectateur trouve une carte, avec les mots « Happy Birthday » inscrits, qui correspond à son mois de naissance !


Reverse Revelation
Trois as voyagent vers un autre tas et l'as restant retrouve les cartes choisies par deux spectateurs.



Langue
: Anglais,
Durée
: 1h43

Volver al catálogo
Este artículo ya no se vende en Magicaplanet