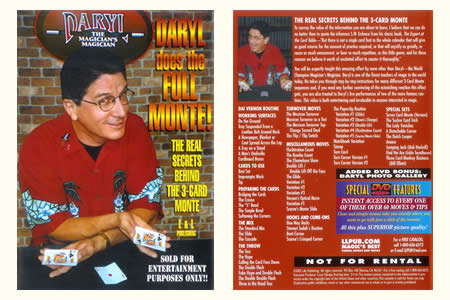 Descripción
Afin de vous donner une idée de la valeur des informations que vous êtes sur le point d'apprendre, nous ne pouvons faire mieux que de citer un extrait du livre de
S.W. Erdnase
,
The Expert at the Card Table
.
Il n'existe aucune autre prouesse de cartes dans tout le calendrier qui aura un effet aussi bon comparé au niveau de pratique, qui vous mystifiera autant, qui causera autant de divertissement, ou que vous pourrez répéter à loisir, que ce petit jeu… c'est pour cela que nous affirmons qu'il ne faut pas compter les efforts nécessaires à la maîtrise de ce tour.
Vous apprendrez à réaliser ce tour de maître par personne d'autre que le très célèbre
Daryl, Le meilleur magicien des magiciens au monde
.
Daryl est à l'heure actuelle un des plus fin enseignants de son art.
Il vous détaille pas à pas les instructions nécessaires à la réalisation de
3 séances de Card Monte
et, si vous ressentez le besoin d'évaluer l'étonnant impact de ce tour sur le public, vous pourrez visionner les prestations en direct de Daryl qui présentera deux des plus célèbres routines.
Au sommaire :


WORKING SURFACES
- On the Ground
- Tray Suspended from a Leather Belt Around Neck
- A Newspaper, Blanket or Coat Spread Across the Lap
- A Tray on a Stand
- A Man's Umbrella
- Cardboard Boxes


CARDS TO USE
- Best Set
- Tip
- Impromptu Work


PREPARING THE CARDS
- Bridging the Cards
- The Crease
- The S Bend
- The Simple Bend
- Softening the Corners


THE MIX
- The Standard Mix
- The Slide
- The Cascade


THE THROW
- The Toss
- The Hype
- Calling the Card Face Down
- The Double Flash
- Fake Hype and Double Flash
- The Double Double Flash
- Three in the Hand Toss


TURNOVER MOVES
- The Mexican Turnover
- Mexican Turnover as a Test
- The Mexican Turnover Top Change Second Deal
- The Flip
- Flip Switch
- The Flip Change


MISCELLANEOUS MOVES
- Flushtration Count
- The Rhumba Count
- The Chameleon Show
- Double Lift
- Double Lift Off the Face


THE GLIDE
- Variation #1
- Variation #2
- Variation #3


VERNON'S OPTICAL MOVE
- Variation #1
- Scarne's Monte Slide


OTHER ROUTINES
- The Dai Vernon Routine
- Stewart Judah's Routine


HOOKS AND COME-ONS
- One-Way Backs
- Scarne's Revolution Move
- Bent Corner
- Scarne's Crimped Corner
- The Paperclip Routine
- Variation #1
- Variation #2 (Down's Change)
- Variation #3
- Variation #4
- Variation #5
- Matchbook Variation
- Stamp
- Torn Card
- Torn Corner
- Version #2


SPECIAL SETS
- Seven Card Monte (Vernon)
- The Sucker Card Trick
- The Lady Vanishes
- A Detachable Corner
- The Dutch Looper
- Amaso
- Jumping Jack (Bob Haskell)
- Find the Ace (Eddie Taytelbaum)
- Three Card Monkey Business (Bill Elliott)



Langue
: Anglais,
Durée
: 2h30

Volver al catálogo
Este artículo ya no se vende en Magicaplanet