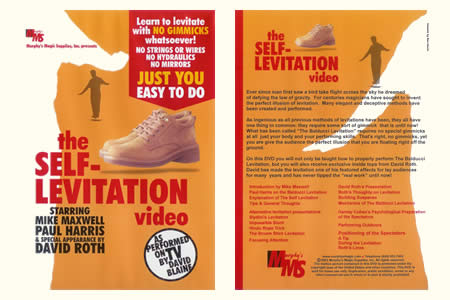 Descripción
Depuis que l'homme a vu pour la toute première fois un oiseau voler dans le ciel, il a toujours rêvé de défier les lois de la gravité.
Depuis des siècles les magiciens ont longuement rechercher comment ils pouvaient créer une illusion parfaite de lévitation.
De nombreuses méthodes, aussi élégantes que décevantes, ont été créées et présentées.
Aussi ingénieuses que ces techniques de lévitation pouvaient être, elle avaient toutes un point commun : elle nécessitaient l'utilisation d'un gimmick… jusqu'à maintenant !
Ce que l'on a appelé
The Balducci Levitation
ne demande aucun gimmick, vous aurez simplement besoin de votre corps et de vos compétences scéniques.
C'est bien vrai,
aucun gimmick
, alors que vous donnez parfaitement l'illusion de flotter au dessus du sol.
Sur ce DVD
Michael Maxwell
vous apprend non seulement à correctement présenter The Balducci Levitation mais il vous partage également avec vous les conseils que lui a prodigués
David Roth
.
David a en effet fait de la lévitation un de ses tours de référence pendant des années sans pour autant n'avoir jamais révélé les secrets de « conception » de son travail… jusqu'à aujourd'hui !
Au sommaire :


Introduction by Michael Maxwell

Paul Harris on The Balducci Levitation

Explanation of the self levitation

Tips and General thoughts


Alternative levitation presentations

Slydini's levitation

Impossible stunt

Hindu rope trick

The broom stick levitation


Focusing attention

David Roth's presentation

Roth's thoughts on levitation

Building suspense

Mechanics of the The Balducci Levitation


Harvey Cohen's psychological preparation of the spectators


Performing outdoors


Positionning of the spectators

A tip

During the levitation

Roth's lines



Langue
: Anglais.

Volver al catálogo
Este artículo ya no se vende en Magicaplanet