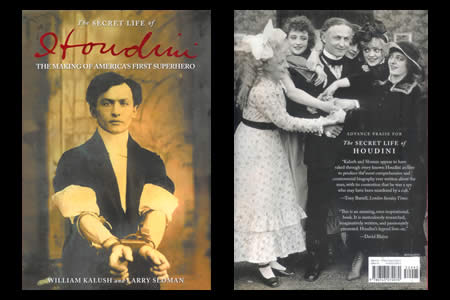 Descripción
Roi des menottes. Artiste d'évasion. Superstar internationale. Depuis son décès survenu il y a huit ans, la vie d'Houdini a été racontée au cinéma, en livres et même sur le petit écran.
Voici ici une biographie en profondeur du professionnel de la magie William Kalush et de l'écrivain de renom Larry Sloman qui ont tous deux allié leurs efforts pour nous présenter l'homme qui se cache derrière tant de mythe.
A partir de milliers de notes, ils décrivent en détails les passions qui ont poussé Houdini à prendre de tels risques, explorent sa vie secrète tels des espions et complotent pour corrompre le personnage.
Après de nombreuses années à essayer de percer au grand jour, Harry Houdini est enfin apparu en première page d'un journal de Chicago. Il est alors allé de l'avant. Rapidement il donne des spectacles pour la reine et ce pour des sommes conséquentes et décide alors de profiter de l'influence émergente d'Hollywood pour se construire une légende.
A l'époque où les grandes agences d'espionnages recrutaient des amateurs, Houdini s'est rendu à Londres et a côtoyé un homme supposé diriger le MI-5. Au cours des années qui suivirent, le magicien le plus célèbre de la planète voyagea au travers de l'Europe, passant notamment par l'Allemagne et la Russie, et rapportait régulièrement ses trouvailles.
Après la victoire de la première guerre mondiale, Houdini s'est engagé dans sa propre bataille. Il a crée un comité d'espions déguisés chargés d'infiltrer le monde sordide des médiums charlatans. Houdini s'est alors attiré le courroux des spiritualistes fanatiques menés à leur tête par le très estimé Sir Arthur Conan Doyle. Menaces de mort au quotidien, le danger devenait plus accru pour Houdini.
Profondément recherché et tout aussi palpitant qu'un roman policier,
The Secret Life of Houdini
retrace le parcours du maître des magiciens, depuis ses débuts dans une extrême pauvreté jusqu'à la légende mondiale, initiant ainsi le lecteur au monde de la magie professionnelle.
Dans cet ouvrage remarquable, Kalush et Sloman décryptent toute une vie d'illusion, nous fournissant ainsi un portrait intime et construit d'Houdini, l'homme et la légende.
Dédicassé
par son ses auteurs (W.Kalush et L.Sloman).
Au sommaire :
The oath

Starving for a living

The celebrated clairvoyants

Quid pro quo

The king of hancuffs

M

Police state

Taming the bear

The challenge of the mirror

Leap of faith

Kill thy father

Death visits the stage

Above the down under

The emperor of sympathy-enlisters

Chinese water torture

Forgive

Fighting our way to the grave

Death by misaventure

Art imitates life

Saul among the prophets

Little sister will do exactly as big brother says

Margery's box

My own secret service

I... am a fake

An eye for an eye

There is no death

Langue : Anglais, Format : 16,5 x 24,7 cm, 592 pages illustrées.


Volver al catálogo
Este artículo ya no se vende en Magicaplanet