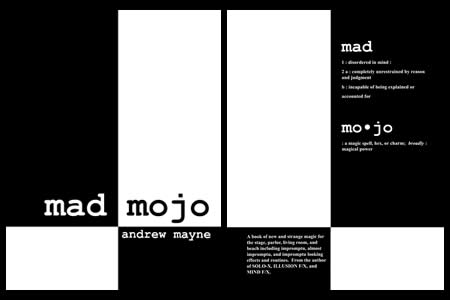 Descripción
La mise en scène de ces effets ne demande que peu d'accessoires et en plus ce sont des objets de la vie courante ou de très faible investissement : jeu de cartes, papier, serviettes de table ou de toilette, ballons à sculpter, ampoule électrique, téléphone portable...
Pas besoin d'être manipulateur ou contorsionniste, les effets peuvent être présentés par tous, sans difficulté et sans risque.
Au total, ce sont 20 effets ou routines qui sont décrits, de style très différents les uns des autres, mais ayant tous un grand impact sur le public.
Au sommaire :
Flyer (Quand une boulette de papier se transforme magiquement en un avion qui rejoint le public).

Pyro Flight (Comment retrouver la bague d'une spectatrice à l'intérieur d'une pochette d'allumettes).

Tea Ceremony (Une routine originale pour l'heure du thé).

Stand-up Aces (Une routine avec les as, sans manipulation).

Ripped up (Comment présenter une routine de cartes de façon totalement impromptue, sans jeu de cartes).

Razor-Blades & Barbed Wire (Une adaptation pour spectacles d'enfants de la célèbre routine des lames de rasoir. Aucun risque, pas de frayeur, les bonbons remplacent les lames).

Newspaper (La routine des boulettes de papier complétée d'un final original).

One Vicious Paper Cut (Illusion ou non, vous semblez perdre la tête).

Lights Out (Retrouvez une ampoule électrique dans votre chaussure).

A Cool Thing to do when you have a Towel on your Head (1) (Une tête tournante impromptue).

A Cool Thing to do when you have a Towel on your Head (2) (Une décapitation instantanée).

Phone Scam (La carte choisie par un spectateur est révélée par la personne au bout du fil).

Rain (Quand l'eau se transforme en une pluie de confettis).

Ice Nine (Prouvez votre pouvoir réfrigérant, transformez de l'eau en glaçons).

A-Wave (Une version de « B 'Wave » de Max MAVEN sans cartes truquées).

Lit (Un effet type fakir).

Implosion (Où est passée la boulette, où est passée la paille ?)

Twister for One (Illusion ou non, votre poignet effectue une rotation complète).

They only come out at Night (Disparition sur une photo).

Mutant Balloon Dogs (Une sculpture de ballon originale).


Langue : Anglais, Format : 21,7 x 28 cm, 93 pages illustrées.



Volver al catálogo
Este artículo ya no se vende en Magicaplanet