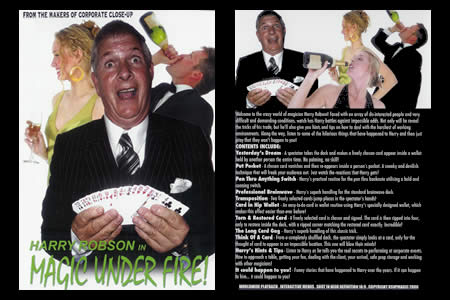 Descripción
Face à une assemblée de sceptiques et dans des conditions plus que difficiles, Harry s'engage dans un combat qui semble bien impossible… et pourtant !
Non content de vous dévoiler tous ses secrets, il vous offre en outre une multitude de conseils et astuces pour faire face aux situations les plus difficiles et les plus incongrues.
Découvrez également au fil du DVD quelques mésaventures hilarantes... et priez pour qu'elles ne vous arrivent pas !
AU SOMMAIRE :
Yesterday's Dream
Un spectateur prend le jeu de cartes et fait apparaître une carte choisie dans une portefeuille tenu par un spectateur depuis le début du tour. Aucun empalmage, aucune compétence requise !


Put Pocket
Une carte choisie disparaît et réapparaît dans la poche d'un spectateur. Un tour sournois et diabolique qui effraiera votre public. Il suffit de voir les réactions du public d'Harry !


Pen Thru Anything Switch
Une routine personnalisée d'Harry du stylo a travers le billet faisant appel à un échange rusé et audacieux.


Professional Brainwave
Les manipulations extraordinaires de Harry avec un jeu Brainwave.


Transposition
Deux cartes choisies sautent dans les mains du public !


Card in Hip Wallet
Une routine de carte dans le portefeuille facile à réaliser. Utilisez le portefeuille spécialement conçu par Harry et simplifiant largement le tour !


Torn & Restored Card
Un spectateur choisit une carte et la signe. La carte est alors déchirée en quatre puis remise dans le jeu. La carte est alors restaurée à l'exception d'un petit morceau correspondant exactement avec un bout de carte. Vraiment incroyable !


The Long Card Gag
Les extraordinaires manipulations de Harry pour ce classique de la magie.


Think Of A Card
un spectateur choisit une carte dans un jeu mélangé. Le simple fait de penser à la carte la fait appraître dans des endroits incongrus. Le public en restera bouche bée !


Harry's Hints & Tips
Ecoutez les conseils avisés de Harry a propos du comportement en congrès. Comment approcher une table, parler d'argent, traiter avec le client, votre entrée, travailler en collaboration avec les autres magiciens… voici quelques un des thèmes abordés.


It could happen to you!
Toutes les mésaventures rigolotes qui se sont produites ces dernières années. Si ça lui est arrivé, ça peut très bien vous arriver !


Langue: Anglais, Durée: 1h20

Volver al catálogo
Este artículo ya no se vende en Magicaplanet